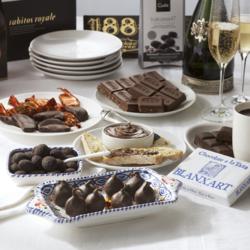 Explore the delectable chocolate of Spain
Williamsburg, VA (PRWEB) January 09, 2013
As the signature gift of Valentine's Day, chocolate's exotic history stretches back to ancient Mesoamerica where it was the bitter, and often spicy beverage of choice for the ruling elite. Spaniards added cane sugar to the concoction and chocolate was first introduced to Europe in 1544. Spanish friars, accompanied by Mayans from Guatemala, presented containers of frothed, sweetened chocolate to the future King Philip II. He and his court were understandably enchanted.
Soon Spanish nobles were clamoring to renovate their homes to feature a "Chocolate Room" typically located between the large hall and the drawing room. There gentlemen of leisure could spend hours in pleasant conversation with friends and associates sipping the luxurious drink.
Spaniards enjoyed large amounts of chocolate for the next hundred years, while the rest of Europe was in the relative dark. Chocolate sweet shops called "chocolateras" sprung up throughout Spain, and by the 19th century one third of the world's entire cacao production was consumed by Spaniards. Spain's rule of the Netherlands and Belgium through the early 18th century even contributed to the rising fame of the Belgian chocolate tradition.
Spain is still a champion of chocolate, whether the fine bon bons to be found at gourmet confection shops, or the humble cup of thick, hot chocolate a la taza enjoyed in the morning with a crunchy churro pastry. La Tienda offers several exciting ways to explore this culinary history:
1. Spanish Chocolate Lovers Collection: From chocolate brandy figs to chocolate coated praline almonds. An extraordinary Spanish chocolate experience delivered in a cloth gift bag. ($65.00)
2. Deluxe Spanish Cava and Chocolates Basket: A sophisticated gift basket for the one you love pairing Rabitos Royale, award winning chocolate bon bons from Extremadura, with a beautiful bottle of one the world's great sparkling wines: Cava from Cataluna. ($49.00)
3. Rabitos Royal Gift Box: Rabitos are an unusually tasty gift - the rich dark chocolate / brandy mousse inside the Rabito nicely accents the delicate sweetness of the baby fig. It is an inspired juxtaposition of flavors. A box of nine Rabitos makes an inspired alternative to the usual box of chocolates. ($14.95)
4. Valor Drinking Chocolate - Chocolate a la Taza: Valor has been the classic chocolate source for Spaniards for over 100 years. Melt this chocolate a la taza in simmering milk, and the solid dark chocolate bar transforms hot milk into a thick and decadent hot chocolate like you have never before experienced. ($9.95)
5. Naranja Con Chocolate - Chocolate Covered Orange Wedges: Fresh Valencian oranges are cut into wedges and then poached in cane sugar syrup, preserving the vibrant citrus flavor. ($21.00)