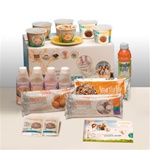 For those individuals – men and women – who are working hard to shed their unwanted pounds and inches, the Smart for Life products are an ideal gift to receive.
Tampa, Fl (PRWEB) January 31, 2013
With Valentine's Day sneaking up on everyone again this year, everyone finds themselves to be in the same situation as last year, despite all those promises made; scrambling to find that perfect Valentine's Day gift at the very last minute. SmartForLifeReviews.com is glad to announce they have a great Valentine's Day solution!
Finding a great gift is a challenge for many couples. There is an unspoken amount of pressure and expectation for both men and women to rustle up something that is bigger and better than those gifts presented in previous years. Worse yet, users are still going strong with their New Year resolutions to embrace a healthy lifestyle, to lose weight and to eat well and healthily, then Valentine's Day can be a bit of a mood killer.
Sprouts and fat-free crackers hardly conjure up images of a romantic meal; neither does the choice of still, sparkling water or green tea. If someone is hard at work trying to shift extra weight and inches, then the traditional Valentine's Day presents such as chocolates, champagne, and strawberries and cream will not be very much appreciated, neither will a meal at a fine dining restaurant where butter and heavy cream are usually order of the day. But then a snack pack and a gym membership may be even less welcome than the culinary delights.
But part and parcel of a serious weight loss and lifestyle change journey is the solid and unwavering support from family and friends, and most importantly those loved ones that are nearest and dearest. Part of supporting a loved one means not sinking into the couch eating cake out of the box with a spoon, but making salads together and walking the dog together every day which makes gifts from SmartForLifeReviews.com a great idea!
So when it comes to a really thoughtful Valentine's Day gift for someone who is serious about getting fit, losing weight and embracing a healthy lifestyle, users are going to need to think out of the box for this one. Throw the fact that the person may also have dietary allergies and needs to watch out for gluten into the mix, and there's really a dilemma.
If someone has really been feeling a bit deprived of all of their sweet treats from their previous unhealthy life, there may be a way to combine support of their new dietary choices with a completely different Valentine's Day present – delicious cupcakes, cookies and snacks that are fat free, and are available as gluten-free options too. These thoughtful gifts will give loved ones the chance to indulge this Valentine's Day without veering away from their weight loss plan or reeling from the guilt afterwards.
But how would someone choose from so many thousands of diet products on the market, how does anyone know that the gift you have chosen is going to fit in with a rigid diet plan that someone is following and if they are really allergen or gluten-free as they claim?
SmartForLifeReviews.com is proud to announce they have the solution. They have done all the hard work, and instead of trawling the grocery store buying one of everything to try at home before ending up choosing it as a gift, users can check out their comprehensive reviews.
Using SmarForLifeReviews.com enables consumers to get an up-to-date, thorough review of health products from a variety of sources, as well as feedback from previous customers who have tried and tested the products themselves. And although there is no substitute for personal research, without actually trying everything, SmartForLifeReviews.com is the second best.
With the amount of new fad diet products on the market it is easy to become bamboozled when finding the one that will work. So, when looking for a Valentine's gift that will delight someone, check out the reviews for the Smart For Life products on their SmartForLifeReviews.com.
The review site helps users find gift ideas for a partner who is perhaps not so much looking for weight loss aids, but allergen-free products such as ones that are gluten-free. These are not always that easy to find, nor do the food items always end up being completely gluten free.
Smart For Life is dedicated to providing specific weight loss and healthy lifestyle products, and using their review site will help consumers find out about the ingredients, different ranges and tips on how to include them on a calorie restricted eating plan, without turning the tables on the weight loss regime altogether.
This kind of information is invaluable to anybody who follows a calorie-restricted diet or suffers from dietary allergies. Walking aimlessly up and down grocery store aisles is not going to provide any more information than what any other consumer can get from the packaging and there are no lifestyle or weight loss consultants on hand to help make the purchase.
Perhaps a weight loss aid for a Valentine's Day gift may seem unusual, but for those individuals – men and women – who are working hard to shed their unwanted pounds and inches, the Smart for Life products are an ideal gift to receive.
Using the review site will help users step in the right direction and can surprise loved ones on Valentine's Day with a gift that will help everyone– the ticket to starting a healthy weight loss and lifestyle plan.