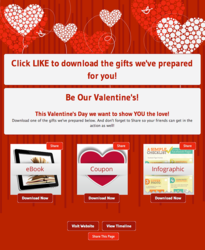 Reno, Nev. (PRWEB) January 30, 2013
ShortStack, a self-service custom app design tool, released a Facebook Page app template that helps businesses provide Valentine's Day gifts to their fans.
ShortStack's Valentine's Day Template enables businesses to provide fans with downloadable and shareable gifts. Gift ideas that ShortStack recommends include coupons, eBooks, infographics, mp3 files, templates, PDF's and Valentine's Day cards. In the United States alone, consumer's shelled out nearly $4 billion on Valentine's Day last year and 2013 is on track to be equally profitable. It's the perfect time of year for businesses to say "we love you" to their fans with special Valentine's Day offers.
Facebook apps have become a popular way for businesses to engage with their fans during Valentine's Day. In 2012, AllFacebook featured the top 10 Valentine's Day Apps from 2012 including a Play Cupid and Spank a Friend app.
Using ShortStack, businesses can create unlimited custom apps with more than 40 tools, 70 templates and 85 themes. Facebook apps created using ShortStack are viewable on mobile devices and can be embedded on websites and blogs. Installing apps on Facebook (and websites) help businesses increase engagement and allow businesses to collect user generated content and feedback. Businesses can use apps to customize their Facebook Pages and collect form data to integrate their other marketing efforts.
ShortStack's Valentine's Day Template is available for all ShortStack users. ShortStack offers monthly pricing plans ranging from Free to $300. Users on all pricing plans are able to use and install the Valentine's Day Template. ShortStack is the platform of choice for some of the biggest brands and celebrities on Facebook including NBC News, ZipCar, Newegg.com, Black and Decker, Pitbull, Falken Tire, Ford Racing, and Lynda.com
About ShortStack
ShortStack is a self-service custom app design tool with features that include contests and sweepstakes, newsletter signup forms and integrations with YouTube, Twitter, RSS and more. ShortStack apps can be installed wherever – to Facebook, websites and blogs, and they're even viewable on mobile devices. To learn more about ShortStack, visit http://www.shortstack.com.
###