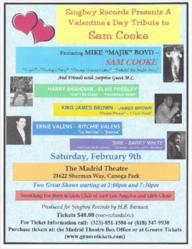 Come and join us at The Madrid Theatre for two amazing shows, the first at 2pm and the second at 7:30pm
Canoga Park, CA (PRWEB) February 04, 2013
HB Barnum and Mike Boyd, of Singboy Entertainment are producing a show at The Madrid Theatre in Canoga Park on February 9th, 2013. Enjoy the music of Ritchie Valens, Barry White, Elvis Presley, Sam Cooke and James Brown in this must-see show!
Music director and producer HB Barnum has worked with Aretha Franklin, Gladys Knight, Ray Charles, Lou Rawls, The Temptations, The Ojays, Frank Sinatra and a host of top stars. He still has a passion for talent and prefers the intimate small theaters like The Madrid Theatre, The Luke Theatre in Santa Barbara and the Spa Casino in Palm Springs.
Mike "Majik" Boyd, award winning song writer and singer, plays it up as Sam Cooke. Harry Shahoian wows the crowd in Las Vegas as Elvis at the Imperial Palace in the Legends in Concert Show. Sire performs internationally giving audiences the very best of Barry White. The cousin of Ritchie Valens, Ernie Valens will take the audience back to great memories and James Brown doing his namesake James Brown will rock the house at The Madrid Theatre in this exciting and nostalgic tribute to these legendary music icons.
Mike Boyd, owner of Singboy Entertainment, knows there are a lot of people who love and connect with this period of music. He wants to create a nostalgic event that will help people come alive again and remember a time when things were innocent and pure, and entertaining.
Come and join us at The Madrid Theatre 21622 Sherman Way on Saturday, February 9th for two amazing shows, the first at 2pm and the second at 7:30pm. Call (818)347-9938 or go to http://www.kicktickets.com/canoga-park/10260/2013/02/09/a-tribute-to-sam-cooke-the-madrid-theatre to purchase tickets! Request songs for the audience on the site and ask about VIP tickets and the after party!
Proceeds will go to benefit the Boys and Girls Club of East Los Angeles and LIFE Choir.
Mike Boyd
Singboy Records
HB (at) HBBarnum (dot) com
(818) 767-8812
"The H.O.M.E. Foundation is Proud to Support The Madrid Theatre"
About The H.O.M.E. Foundation:
The Helping Others Means Everything, or The H.O.M.E. Foundation, is a not-for-profit organization dedicated to helping our Family of Charities. Frankie Verdugo, President of The HOME Foundation, wants to help as many worthy charities as possible as they struggle during these tough economic times. Frankie Verdugo helps raise funds through luxury dream home raffles, home giveaways, prizes, and high profile celebrity events in Hollywood... "Our mission is to help charities reach their fundraising goals and to bring awareness to their praiseworthy causes."