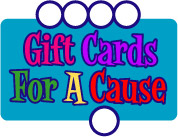 You buy the gift cards, and Gift Cards for a Cause makes the donation! It's that simple.
Charlotte, NC (PRWEB) January 24, 2013
With January nearing its close, and Valentine's Day just around the corner, now is the time to start thinking about what to give that special someone. Gift Cards for a Cause, a leading national philanthropic company is offering some fantastic gift cards, all in the spirit of Valentine's Day that will be sure to please. These will not only impress, but will also give back up to 20% of the gift card value to a favorite charity or non-profit organization.
If sending flowers is a must, then so is purchasing a 1-800Flowers.com gift card that can be used to order the perfect gift as well as contribute a thoughtful donation. Popular vendors include 1-800-Flowers.com, Fannie May, Harry London, Cheryl & Co., The Popcorn Factory, or 1-800baskets.com.
What about treating that special someone to a well-deserved massage, manicure, pedicure, or facial? Gift Cards for a Cause is offering charity givebacks on Spafinder.com or SpaWish.com gift cards that can be used nationally at thousands of locations. Gift Cards for a Cause also offers gift cards to purchase necklaces, bracelets, watches, or even that engagement ring at one of several national jewelry stores such as Kay Jewelers, Jared, and others.
In a hectic world with less time for leisure, often times loved ones desire experiences like a romantic movie or dinner on Valentine's Day rather than an item purchased quickly off the shelf. Options include vendors such as Regal, AMC, and Fandango, as well as more than 40 featured restaurants all which offer a bigger purpose—a charitable donation.
With more than 250 national restaurants and retailers to choose from, Gift Cards for a Cause is bound to have the right gift to make this Valentine's Day special. And it couldn't be easier, simply go to the Gift Cards for a Cause website, make your gift card selection, and choose a favorite nonprofit organization to give back to.
According to Mad Anthonys Children's Hope House, who provides lodging to parents, families, and children receiving medical care away from home, "You buy the gift cards, and Gift Cards for a Cause makes the donation! It's that simple"
By purchasing gift cards at Gift Cards for a Cause, not only will that special someone be impressed, but the donation provided by the purchasing these gift cards may help provide a meal for someone who otherwise may have gone hungry, a summer camp experience for a child who may not have otherwise ever had the opportunity, a mentor or big brother for a teenager, or treatment and hope for someone struggling with a chronic illness.
About Gift Cards for a Cause
Headquartered in Cornelius, NC, the mission of Gift Cards for a Cause is to help raise money for worthy causes across the, globe by providing nonprofit organizations individuals, and corporations a way to support their favorite philanthropic organizations through everyday shopping. Every time an order is placed, donations go to the purchaser's favorite charitable organization or school. All organizations that receive donations have been certified by the IRS as legitimate 501(c)3 nonprofit organizations. Please take the time to visit us at http://www.GiftCardsForaCause.com and stay connected with us on Facebook.