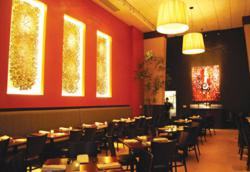 Make Valentine's 2011 memorable by attending a fantastic event with your sweetheart at Dosa in San Francisco.
San Francisco, CA (PRWEB) January 23, 2012
This Valentine's Day consider taking a non-traditional approach to gift giving. Join Care Through Action for a memorable and meaningful fundraising event called "Send Love to the Congo". Enjoy a beautiful evening with your sweetheart while dining on fine foods and sipping cocktails with an amazing, inspirational crowd. The event is being hosted at the award-winning restaurant Dosa on Fillmore Street from 7:00pm-10:00pm. The event takes place following Valentine's Day on February 15th - eliminating crowded Valentine's Day dinner reservations.
By attending "Send Love to The Congo" your Valentine's date dollars can make a positive impact, inspire hope, and dramatically improve lives. Care Through Action is a 501C(3) foundation started by Alissa Everett to raise awareness of Human Rights Issues through dramatic documentary photography. Currently the focus for giving is on the Congo, and all proceeds from the benefit and silent auction will support the on-going partnership between Care Through Action and Heal Africa. Partners located in the Congo work hard every day to change the lives of women that have been victims of violence. Several safe houses are operated where women can go to rebuild their lives, find community, and learn new skills like sewing, basket weaving or bread making. The women are also offered micro loans that can be used to start a business and become self-sufficient. Many women have joined Care Through Action's programs and changed their lives for the better.
Inspiring images and stories will be showcased throughout the evening, taken by the founder and executive director of CTA, Alissa Everett. Alissa's photography has been featured in many international publications and NGOs, including, TIME, Stern, Reuters, Popular Photography, the San Francisco Chronicle, and Islands, Portfolio and Traveler Overseas magazines, the Millennium Promise, Women's Refugee Commission, HEAL Africa and the World Food Program. Her prints will be available for purchase at this event.
Purchase tickets now to attend this unforgettable event at Dosa!
EVENT: "Send Love to the Congo" Benefit and Silent Auction - Hosted by Care Through Action
Where: DOSA Restaurant on Fillmore, 1700 Fillmore (@ Post) San Francisco, CA 94115
Time: 7:00 pm-10:00 pm
Phone: 415.441.3672
When: February 15th, 2012
Tickets: $150. Available on our here on our Donations page.
The Huffington Post recently featured Care Through Action in the article: "Charities that stretch your dollar most". showcasing charities that maximize donations. Want to make an offline donation? Send checks made payable to:
Care Through Action
P.O. Box 695
San Francisco, CA 94104
About Care Through Action
Care Through Action is changing the world's understanding of human rights violations to inspire involvement and action. Awareness of under-reported issues is built through the power of images and inspirational stories from the front lines. CTA envisions a global, informed community where the human rights of every individual are protected, connected by images and stories of hope and dignity that nurture the spirit and create empathy for one another.
# # #