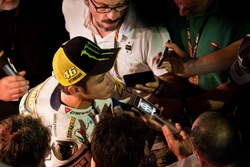 I am really looking forward to seeing everyone and being back in the paddock; I was tired of being at home!
London (PRWeb UK) July 15, 2010
Superlatives worthy of sitting beside the name Valentino Rossi were exhausted years ago now. However, it's with great pleasure and, let's face it, massive admiration that Monster Energy can confirm the news that Valentino has made the call to travel to Sachsenring tomorrow and will attempt to race this weekend. The final decision will be made by the Chief Medical Officer at the circuit, but this marks an unreal by anyone's standards.
Valentino tested a Yamaha YZF-R1 in Misano last week and had a second session on the Superbike in Brno on Monday, when his best time would have been the fastest in the WSB race the previous day. Five weeks previously he was lying flat with an IV drip in his leg to combat infection. How that works, we're still not sure.
Speaking right after getting his doctor's approval to travel, Valentino announced: "I felt good on the R1 but I know my M1 at the track is a different thing and it will be hard for me, but I miss my bike and my team and I want to try. I am really looking forward to seeing everyone and being back in the paddock; I was tired of being at home!"
Monster Energy has been pumped to support Valentino since the beginning of the 2009 season and we've been in awe of his achievements across his career, but the cojones it's taken to get back on a bike so fast is really something.
To stay up to date with Valentino's progress in Sachsenring this weekend, make sure you keep an eye on http://www.monsterenergy.com .
About Monster Energy
The no.1 by-volume sales energy drink in the United States, Monster Energy supports the sport. Be it MotoGP, Formula 1, Superbikes, supermoto, skis, boards, snowmobiles, SX, rally, insane distance jumping, MX, off-road, trial, FMX, skate, MTB, wake, surf, snow, BMX -- name it -- the athletes are rockin' Monster Energy more than anything these days. Check out all the types -- Original Monster Energy, Monster Lo-Carb, Monster Ripper, available in the UK, Ireland, France, Germany, Monaco, the Netherlands, Belgium, Luxembourg, Sweden, Finland, Italy and Spain. Valentino Rossi digs 'em -- so will you. On the Net at http://www.monsterarmy.com and http://www.monsterenergy.com .
Monster Energy 125cc, Moto2 and MotoGP riders
MotoGP: Valentino Rossi, Tech 3 (Colin Edwards & Ben Spies), Marco Simoncelli
Moto2: Toni Elias, Andrea Iannone
125cc: Bradley Smith, Pol Espargaro
Notable Additional Monster Motorsport Riders/Drivers
2 wheel: Cal Crutchlow, James Toseland, Nate Adams, Ricky Carmichael,
4 wheel: Mercedes GP (Michael Schumacher & Nico Rosberg), Ken Block (Monster Energy World Rally Team), Robby Gordon, Paul Tracy
Press Enquiries
Press enquiries should be directed to Jimmy Goodrich. Jimmy(at)kaoseurope(dot)com or +44(0)207 226 8787.
###