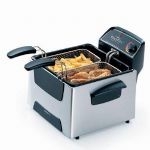 Hearth Healthy Deep Frying Recipes, Great mouth watering foods & Lasting friendships. Its the magic of a portable cooker!
Kingston, NY (PRWEB) February 12, 2013
It is possible that in a few years the deep fryer, a grill, or maybe even a skillet could replace chocolate candies and flowers for the number one Valentine gift to loved ones. The Skillet & More Company has seen a 15% sales increase over last year's Valentine's Day.
Informal sales conversations with customers suggests that today the Valentine's Day trend has changed towards healthier and longer lasting gifts. People have become more health conscience and so their choice of gift giving has changed. The intense media attention regarding the dangers of eating too much sugary foods, cholesterol and calories has has caused a shift in the gifts people give to each other. One would think, therefore, that deep fryer sales would be way down.
A few years ago not many people would have associated deep frying as being part of a hearth healthy diet. In fact, if deep frying is done correctly it is actually very healthy because the escaping steam resulting from the hot oil prevents the oil from seeping into the food. This is the reason a turkey can be cooked in peanut oil for example and still taste like a steamed turkey.
Another reason for the change in attitude is that candies and flowers last such a short time while a grill or deep fryer is something that will last a long time. Cooking is also something that two people can do together as a couple or with friends. A portable grill or deep fryer is a fantastic way to enjoy watching a football or baseball game. They also make for a great party conversation piece. A bouquet of flowers and a box of chocolate is good for a minute or two of togetherness and conversation.
The Valentine's we know today has a long history which includes chocolate candies. Most people, therefore, when they hear the words Valentines think of the traditional heart shaped box of delicious mouth watering chocolate. However, the box usually looks better than the chocolates inside. In past years, the most common gift to a loved one was a heart shaped box of chocolate accompanied by a bouquet of flowers.
Valentine Card giving began in 1415 when Charles the Duck of Orleans wrote a poem for his wife while he was imprisoned in the Tower of London. By the 16th century, cards had become so common on Valentine's Day that several religious leaders preached against them. Valentine's Day flowers began as a tradition in the 17th century, since roses, which represent love in all its forms, were the flowers of choice for the Day. The rose was the favorite flower of Venus, the Goddess of Love.
We can thank the Spanish explorers who brought chocolate back to the Old World from the New World in the 17th century. Soon enough the popularity increased in Europe and chocolate, possibly for its aphrodisiac effects, became the candy of choice for the lover's holiday. By the early 19th century, it was the most popular way to show your love on the special day.
To encourage this new healthier gift giving trend, the Skillets & More Company has teamed up with American Greetings. Customers can now send a free personalized e-card to their loved ones during the month of February when they make any purchase from the Skillets & More website. Customers will also receive a printable meal planning worksheet calendar.