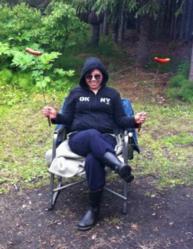 Finding no trace of her increases the likelihood that this is more than getting lost in the woods in the dark.
Anchorage, Alaska (PRWEB) July 25, 2012
An additional cash reward of up to $1000 is offered through Crime Stoppers for tips that lead to the arrest of a felony crime suspect. Tips may be called in to APD at (907) 786-8900, or submitted anonymously at (907) 561-STOP, or at Crime Stoppers secure website at http://www.anchoragecrimestoppers.com.
Anyone interested in contributing to the Valerie Sifsof Reward Fund can do so through
Victims for Justice at (907) 278-0977; or by mail to Victims for Justice, 1057 Fireweed Lane, Suite 101, Anchorage, AK 99503; or by making a deposit to the Victims for Justice/Valerie Sifsof Fund at any branch of First National Bank Alaska.
It has been nearly three weeks since the 43 year old, 5 ft/5 inch, raven haired, brown-eyed Anchorage woman disappeared from a campground in the Kenai, where she was spending the weekend with her boyfriend. He reports that she walked away after an argument and was never seen again.
Her father, Victor, head of the Sifsof clan, a large and loving family, called Valerie a "compassionate, friendly and thoughtful" daughter. "She was helping her mother prepare for her sister's baby shower, which we had to cancel last weekend: she wouldn't have missed that for the world." With his wife Jane and several aunts, cousins and children by his side, he has been leading a formidable search since Alaska Search and Rescue called off their operation after the first few days. Her family is offering the $25,000 dollar reward in the hopes that this will motivate those with information to come forward. As the days go by, it looks more likely that she was abducted or met with foul play.
For more information, updates and suggestions on how to help, please visit http://www.valeriesifsof.com.