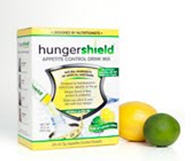 We are very much about clean production, natural ingredients and effectiveness. It is clear HungerShield was created with all of this in mind.
Scarsdale, New York (PRWEB) October 02, 2012
Value Drugs prides itself on being "a drug store and so much more," with friendly neighborhood service. This, combined with a dedication to quality products and community wellness, makes them a well-suited partner for HungerShield, a new and natural appetite control drink mix developed by registered dietitians.
"We are a variety store with a little of everything to best serve its communities," says Michael Carugan, manager of the Bronxville, New York store. Carugan has been managing the partnership and distribution of HungerShield to all Value Drugs locations.
In looking at the growth of the health and beauty centers, as well as the demand for quality products that address weight control, Value Drugs staff saw the differentiators of HungerShield and were eager to bring it into their stores.
According to Carugan, "HungerShield has taken off. We keep having to re-stock, and we are working on a plan to roll it out to our remaining three locations this week." Carugan also emphasized that the staff has sampled HungerShield. "Our pharmacy staff has tried it and they all agree, it works," says Carugan. "I am using it myself and see firsthand the impact and effectiveness of the product, so I can really stand behind it."
Charles J. Smutny III DO, FAAO, Nutritional Consultant for Value Drugs in Greenlawn, Long Island also recognized the credibility and uniqueness of HungerShield. "From the moment I received the product information, I went online and learned everything I could about the product and the ingredients," says Dr. Smutney. "We are very much about clean production, natural ingredients and effectiveness. It is clear HungerShield was created with all of this in mind." Dr. Smutney, known as "Dr. Chip" to his colleagues, clients and patients, came to Value Drugs after a career as a neuromuscular medicine specialist. He values the relation of food and nutrition to overall health from years of dealing with complicated issues in practice.
In continuing to grow with their communities and treat the "whole person," Value Drugs is building out nutrition centers, as well as their selection of health, beauty and food products in all locations, based on the needs of the communities they serve.
"Value Drugs has been great to work with. I was impressed with them since our very first conversation," says Elizabeth DeRobertis, MS, RD, CDE, co-founder of HungerShield. "They have a team of healthcare professionals that review all of the products they sell. They really take pride in selecting high quality products and in delivering personalized service and care to their customers."
About HungerShield
HungerShield is an innovative appetite control drink mix created by four registered dietitians, Elizabeth DeRobertis MS, RD, CDN, CDE, Heather Zeitz RD, CDN, Elizabeth Pecoraro MS, RD, CDN and Dafna Chazin MS, RD, CDN. HungerShield is the only product on the market designed specifically to curb appetite through a unique blend of high quality and natural ingredients, including protein, fiber and probiotics. It is also the only product in this category that was created by healthcare professionals and can work with any diet plan on the market. For more information, visit http://www.hungershield.com. You can follow HungerShield on Twitter @HungerShield and on Facebook.
About Value Drugs
Known to their customers as "a drugstore and so much more...," Value Drugs is proud to be family owned and operated for over 40 years. They have been serving communities in Westchester, Manhattan, and Long Island since 1971. From health and beauty aids to their extensive lines of seasonal products, customers can expect the utmost in quality and service from all of their stores. For more information, visit: http://www.value-drugs.com