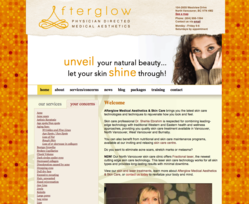 Selphyl® is completely natural. No foreign material is injected and it relies on one's own body's ability to rejuvenate the skin.
Vancouver, British Columbia, Canada (PRWEB) January 12, 2012
At her Vancouver skin care practice, Dr. Shehla Ebrahim is now providing Selphyl®, a wrinkle treatment filler designed to enhance patient skin quality and reduce fine lines. Developed by Aesthetic Factors, LLC, the Selphyl® system draws blood from patients and injects it into targeted locations, earning it the nickname "Vampire Facelift." While the procedure is not actually a facelift, Dr. Ebrahim says Selphyl® can offer significant improvement in skin tone and smoothness. Because Selphyl® is completely natural, utilizing one's own blood to enhance features, she adds that patients can also reduce the risk of infection from foreign bodies.
During the Selphyl® procedure, doctors collect a small volume of the patient's blood, concentrating the platelets (clot-forming cells) and fibrin into a liquid, gel, or membrane. Selphyl® utilizes the platelets and fibrin to release proteins in the targeted area that trigger cell migration and healthy skin growth. Dr. Ebrahim says the entire procedure takes approximately 30 minutes to complete and results can typically be attained after one treatment, although more injections may be required based on doctor evaluation and patient needs. "The Selphyl® procedure can be performed comfortably while awake and without any anesthesia. It is an in office procedure with no downtime. Patients can return to work within the hour."
While Dr. Ebrahim's skin care practice also provides dermal fillers and injections such as BOTOX in Vancouver, she says she is excited about Selphyl® because of its natural ability to effectively improve her patients' skin strength and youthful vitality. "Selphyl® is completely natural. No foreign material is injected and it relies on one's own body's ability to rejuvenate the skin." Dr. Ebrahim also stresses the importance of consulting an experienced and qualified practice before undergoing any procedure, regardless of the goals or overall invasiveness of the treatment.
About Shehla Ebrahim, MD
2011 nominee for Best Doctor on the North Shore in Vancouver, Dr. Shehla Ebrahim is a graduate of the University of British Columbia and has been practicing family medicine since 1992. She is a certificant of the College of Family Physicians of Canada as well as a Fellow of the College of Family Physicians of Canada. Dr. Ebrahim is a member of the British Columbia College of Family Physicians, the British Columbia Medical Association, the American Society for Laser Medicine & Surgery, the Canadian Association of Aesthetic Medicine, and several other professional societies. As the Medical Director for Ambleside Dermedics Health Centre in West Vancouver, she also has been involved in teaching first-year medical students in family medicine and clinical research during the past several years. Dr. Ebrahim earned a diploma in Practical Dermatology from the University of Cardiff in Wales.
Located at 104-2609 Westview Drive in North Vancouver, BC, Canada, Dr. Ebrahim's practice, Afterglow Physician Directed Medical Aesthetics, can be contacted at (604) 998-1594. It can also be reached online through the website afterglowskincare.ca.
###