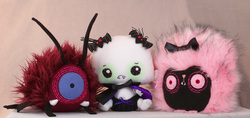 Clearwater, FL (PRWEB) February 1, 2011
Vamplets™, the delightfully devilish Baby Vampyres™ from the World of Gloomvania™, have been trying to keep their feisty pets locked up; however, the VamPETS have escaped and are on their way to invade the American International Toy Fair, which will take place in New York City from February 13-16.
Show attendees should proceed with caution around all VamPETS, including the Wereroach™, a furry one-eyed creature with territorial tendencies, and the Zombie Guinea Pig™, a prickly and persistent animal who is known to stampede in herds.
Once captured, the VamPETS will be displayed at Toy Fair Booth #4942 along with the Vamplet Baby Vampyres, who enjoyed their first taste of Toy Fair last year under the watchful eyes of their creator, G-Ra. This year, the cute and creepy Vamplets plush will be back, along with new clothing and accessories. That is, unless the VamPETS eat it all first.
"We'll do our best to restrain the Vamplets and VamPETS from causing havoc at Toy Fair; however, like most babies and pets, they're just looking for some love and attention," said Jaryl LaMort, President of Vamplet, LLC. "Once you get past their naughty nature, you'll find them to be undeniably endearing."
Brave souls can arrange to meet the Vamplets and VamPETS in person at Toy Fair by contacting Jaryl LaMort at 727-210-6142 or gotblood@vamplets.com. By Fall 2011, the VamPETS are expected to invade specialty retailers across the country.
About Vamplet, LLC
Vamplet, LLC is the marketer and distributor of Vamplets, the lovable yet mischievous Baby Vampyres from the World of Gloomvania, as imagined by the artist and product designer known as G-Ra. Uniquely quirky, yet undeniably cute, Vamplets have been embraced for their fresh and whimsical approach to the current vampire trend within pop culture. The Vamplets product line consists of collectible hand-stitched plush, accessories and apparel, which are sold in specialty stores nationwide, as well as through the company's website. For more information or to explore the world of Vamplets, please visit http://www.vamplets.com. For the most up-to-date information on new escapees from Gloomvania, follow the Vamplets on Facebook at http://www.facebook.com/Vamplet.
###