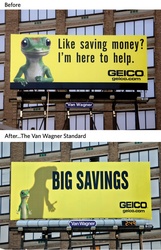 The Van Wagner Standard is the result of our company going to extraordinary lengths to present outdoor advertising the way it should to be
NEW YORK (PRWEB) May 27, 2008
Van Wagner is revitalizing hundreds of structures by retrofitting billboards with new stainless steel aprons and digital time and temperature devices. The new aesthetic gives commuters another compelling reason to view their outdoor advertisements and upholds Van Wagner's leadership position as the provider of the highest quality displays.
"The Van Wagner Standard is the result of our company going to extraordinary lengths to present outdoor advertising the way it should to be," said Richard Schaps, CEO of Van Wagner Communications. "Just like every work of art deserves the perfect frame, The Van Wagner Standard was designed to provide advertisers with the best, most effective setting to deliver their messages."
The Van Wagner Standard is now appearing all over New York City and rolling out Summer 2008 in Boston and Chicago, and then Los Angeles.
About Van Wagner Communications
Since posting its first imprint in Times Square in the 1970s, Van Wagner Communications has been recognized as one of the most innovative industry leaders in the development of outdoor advertising. With operations in New York, Los Angeles, Washington DC, Boston, Chicago and Miami, and sports properties in over 40 states, Van Wagner's market specialists serve advertisers and agencies throughout the United States.
MULTIMEDIA GALLERY http://www.businesswire.com/cgi-bin/mmg.cgi?eid=5692966