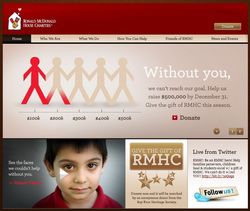 "This exclusive invitation caps off a great year for us, and further validates our winning philosophy of marrying the best of traditional and digital agency capabilities." - Sandy Fleischer
Vancouver B.C. (PRWEB) December 2, 2009
Fjord West, the digital solutions provider of Cossette West, announced that they have accepted an invitation to join the Society of Digital Agencies (SoDA), an exclusive, invitation-only community of 41 leading digital communications firms. SoDA is the worldwide voice of digital marketing professionals with a mission to advance the industry through best practices, education, and advocacy; a mission that Fjord West replicates in its philosophy and client product.
"Fjord West is thrilled to be part of SoDA", says Sandy Fleischer, VP, GM Fjord West. "This exclusive invitation caps off a great year for us, and further validates Fjord's winning philosophy of marrying the best of traditional and digital agency capabilities. Fuelled by the explosive growth of social media, mobile apps, and other digital channels, marketing departments are placing digital at the core of their initiatives, and Fjord West is uniquely positioned to capitalize on this industry-wide shift."
Gaining recognition from its global win as the digital agency of record (AOR) for Ronald McDonald House Charities, Fjord West is a leading example of a digital agency that already holds AOR relationships, and has competed against large traditional agencies when winning those accounts. Canpages, Canada's fastest growing local search company, selected Fjord West as its agency of record to increase their product offering, and develop their digital communications and marketing programs across the Canpages family of brands.
Tourism Richmond also recently awarded Fjord West AOR status to develop and execute a communications plan that will capture the attention of Western Canadians looking for a getaway to, and within B.C. Fjord's It's All Here campaign and website has seen a response rate for online advertising that is 2.5 times higher than the travel category average. Other projects Fjord West has been working on include McDonald's North American social network site for their one million crew, the first digital collaborative art project for the 2010 Cultural Olympiad (VANOC), and the companion website for Darwin's Brave New World, a Nature of Things television series that aired on the Canadian Broadcasting Corporation.
"Our growing success can be attributed to our depth of experience in 'tradigital' communications, and our thought leadership as the architects of Vancouver Digital Week and as the visionaries behind the celebrated Cossette Convergence events," says Angele Beausoleil, VP strategy and client services, Fjord West. "Our clients have benefitted from our consumer-centric and holistic approach to integrated marketing and as a result we've seen an increasing number of clients partner with us on local, national, and global social media marketing programs."
Tradigital, a term Fjord West uses to describe its philosophy, refers to their team's unique approach of marrying traditional agencies' strategic and creative expertise, with the innate digital know-how (website development, online advertising, application development, etc.) of pure play digital agencies.
Sandy and Angele have grown the team from seven to 35 staff in only three years, building upon their hybrid traditional and digital philosophy with every new hire. Most recently, they acquired one of Canada's top branding experts, Gae Wakabayashi as Executive Creative Director. Wakabayashi brings 25 years of branding-focused creative experience and worked previously with Ken Koo and Identica Branding & Design (Cossette Inc.). Fjord West also added Garnet McElree, one of Canada's most award-winning, direct marketing professionals, who joins Jackson Murphy as an Associate Creative Director.
Other additions to the team include Jeff Scheffler, Director of Strategy, formerly from Vision Critical, and Erica Lam, Social Media Strategist, one of Canada's top bloggers.
About Fjord West
Fjord West is a digitally led full-service agency offering marketing, advertising and communications services to a mix of local, national and international brands. Fjord West is a part of Cossette Inc. To learn more about them visit http://fjordwest.com.
About SoDA
The Society of Digital Agencies is the voice of digital marketing professionals worldwide. The organization's mission is to advance the industry through best practices, education, and advocacy. SoDA is a non-profit industry organization, and is honored to have Adobe Systems as its founding sponsor. SoDA membership is by invitation only. The organization has tripled its numbers since forming in 2008. To learn more about SoDA visit http://www.sodaspeaks.ning.com.
For more information and interview opportunities contact:
Paul Marr
Optimum PR
604 647-6288
http://www.cossette.com
###