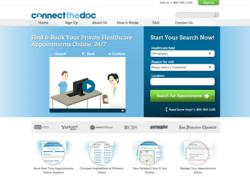 The improvement and promotion of healthy living and green-space syncs perfectly with the goals we have for patients booking through CTD
Vancouver, BC (PRWEB) August 11, 2012
For the past three months, the development team at Connect the Doc has been making slight adjustments to the site's user interface (UI). At KitsFest, CTD will showcase these new UI developments by encouraging athletes, volunteers and spectators to book sample appointments online at CTD's booth. In exchange, participants can enjoy a relaxing massage free-of-charge from 10am – 6pm on Friday and Sunday and 10am-8pm on Saturday. Drinks, ice-cream, and t-shirts will also be given away throughout the weekend.
"KitsFest is one of Vancouver's largest healthy living and community festival, " says Nadeem Kassam, founder of Connect the Doc. "The proceeds of KitsFest are dedicated towards upgrading park facilities in our community. The improvement and promotion of healthy living and green-space syncs perfectly with the goals we have for patients booking through CTD." This year, there will be over 30 vendors and hundreds of community members participating in tennis, beach tennis, volleyball, and basketball. On Saturday evening, Lululemon will be hosting a sunset yoga session where there are already over one thousand registrants.
About Connect the Doc:
Connect the Doc is a service that helps prospective patients find and book their healthcare appointments online, 24/7. Appointments can be booked with Vancouver massage therapists, chiropractors, physiotherapists, and dentists. This month, Connect the Doc has a new patient booking promotion; book a new patient appointment online and receive a $20 gift card to Startbucks, Chapters, Futureshop, or SportChek. Please visit http://www.connectthedoc.com for more details.