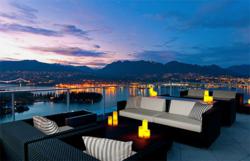 A $4,000 a square foot real estate price tag is one of the highest ever paid in Canada, something you'd expect more from a city like New York, London or Hong Kong.
Vancouver, British Columbia, Canada (PRWEB) June 21, 2013
The sale of the Fairmont Pacific Rim penthouse condo for $25 million puts Vancouver in the same cosmopolitan class as Toronto, New York, London, and Hong Kong, according to leading REALTOR® Richard Morrison.
"The $4,000 per square foot the buyer paid is one of the highest prices ever paid in Canada," according to the veteran Vancouver REALTOR®. "It's what you'd expect in a city like London, New York, and Hong Kong. This sale doesn't just put Vancouver on the map, but seeing this kind of sale outside of Toronto is a turning point for Canadian real estate as a whole."
Morrison should know. The Simon Fraser Honors graduate is one of Vancouver's top real estate agent, drawing on more than ten years of experience selling homes in Vancouver and a full staff of five people to help close the realty deals of his clients' dreams. Morrison even holds Vancouver's coveted Master Medallion REALTOR® status in recognition of his expertise.
"In the past, we've seen Toronto bank chairmen spend $17 or $18 million on their penthouses," he notes. "But $25 million dollars represents a very big number."
Ask Richard Morrison what made the Fairmont penthouse so desirable, and he's quick to tell you.
"This is an extremely luxurious property in a five star hotel on the Vancouver waterfront," Morrison enthuses. "It has one of the best views on the planet, a sweeping vista from Vancouver condos in Coal Harbour to the North Shore Mountains. The condo is also extremely large, with 6400 square feet over two floors."
Indeed, the fourteen rooms -- including four bathrooms and three bedrooms -- of the Fairmont penthouse have turned many heads in the Vancouver condo market. The condo spent almost two years on the market, which Morrison says is expected with such a high end property.
"The number of buyers that could afford this is a handful, certainly in Canada. In Toronto only 270 million condos sold for more than a million dollars last year. $25 million represents a very select class of buyer."
In this case, the buyer for the Fairmont Pacific Rim is almost certainly a foreign one, even if very little information is available about who that might be. Morrison says a strong desire for privacy is common in high end property sales.
In Morrison's experience, "these kinds of sales are usually done in a cloak and dagger fashion," making it hard to learn much at all about the new owner of Vancouver's most expensive property. Whoever that might be, they'll have to budget for a significant amount in order to keep their condo running. Morrison estimates the annual property taxes at $70,000 -- in addition to $4200 per month just in condo fees.