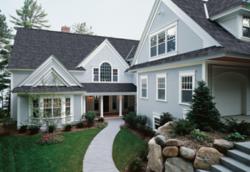 We want to educate our customers about our products ... so they can make an informed choice"
Vancouver, BC (PRWEB) April 29, 2012
Affordable Quality Roofing held a Grand Opening ceremony for their new showroom in North Vancouver last month. Select individuals from the industry were invited to a special night of wine and appetizers to talk a little shop.
The event was a rousing success, as many professionals and industry insiders expressed appreciation for the new showroom. The idea of having trained persons answering questions and providing samples of roofing material in a convenient location seemed like a home run for many of the attendees.
"We want to educate the customer about our products," said Terry from Affordable Quality Roofing. "Big box stores just can't offer the same level of expertise on the products they sell."
The goals of the roofing industry have not changed much over the last 25 years. Roofers have always been there to keep the rain off our heads, and the heat in our homes. The products and techniques used to go about this however are constantly evolving. Nowadays people have many concerns about the roofing materials they choose.
Customers need to know about durability, weather resistance, insulating qualities, cost effectiveness, environmental impact, and the list goes on. Many people are choosing to replace roofs well before the end of life on their current roof, simply to save long term on energy bills.
While the economical use of energy is now being considered by more and more consumers making buying decisions, BC Hydro and Statistics Canada have each come up with some interesting long-term forecasts for the future of the province. The population of the province is projected to increase by approximately 28% in the next 20 years. At the same time, our energy demands have shown projections of expanding an additional 50%.
With energy prices showing no signs of falling at any time, it makes sense for consumers to get wise about their home insulation. BC Hydro estimates that by properly insulating an attic, a person can save as much as 60% on their energy bill. With those kinds of savings, a new roof can make a big difference to their future cost of living.
About Affordable Quality Roofing
Affordable Quality Roofing has been operating in the Greater Vancouver area since 1986. They have been voted Vancouver's best roofing contractor, and stand by their service by offering a 25-year guarantee on labour and workmanship.