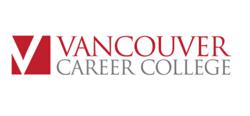 The Registered Massage Therapy program meets the standards established by the College of Massage Therapists of BC.
Burnaby, BC (PRWEB) October 14, 2011
Vancouver Career College is now accepting applications for the Registered Massage Therapist (RMT) program at its Burnaby campus. The new 96-week program is offering a terrific opportunity for those looking to enter the growing healthcare field.
Registered massage therapists are qualified healthcare workers trained in recovery, relaxation, and other wellness techniques. They deliver safe and effective treatments to those seeking massage therapy services for medical conditions, injuries and overall wellness.
Students enrolled in the Registered Massage Therapy program will acquire the theoretical knowledge and hands-on experience required on-the-job. Throughout the program, the college's experienced instructors will teach students the fundamentals of anatomy, physiology, arthrology and neurology. They'll also learn various techniques, theories and methods of massage as well as assessment protocols, principles of treatment and therapeutic exercises. Different types of massage treatments will be covered, allowing students to explore the scope of RMT practice in BC.
As a regulated healthcare profession in British Columbia, Registered Massage Therapists must meet the rigorous standards set out by the College of Massage Therapists of BC (CMTBC). Those looking for career opportunities in this field can gain the necessary education and credentials needed to practice in the province at Vancouver Career College.
The program meets the competencies outlined in the CMTBC Occupational Competency Profile. Graduates will also be able to write the CMTBC registration exams.
During the program, students will have the opportunity to put their skills and knowledge into practice, interacting with clients in the supervised Student Clinic. They'll complete several clinical placements and learn to meet the needs of specific patient populations.
Vancouver Career College is currently accepting applications for the Registered Massage Therapist program at its campus in Burnaby. More information about the program can be found at http://www.vccollege.ca. Follow along on Facebook and Twitter.
About Vancouver Career College
Vancouver Career College is dedicated to providing students with the highest standard of education and career training, with all programs granted approval by the provincial government of British Columbia. With small classes, industry-relevant programs and six convenient locations across BC, Vancouver Career College is one of the region's leading career training schools with solid results in job placement for graduates.
###