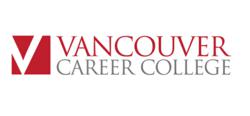 Vancouver, BC (PRWEB) September 07, 2011
Vancouver Career College will host a province-wide open house on September 14, 2011 from 4:00 to 7:00pm. Campus locations in Vancouver, Burnaby, Coquitlam, Surrey, Abbotsford and Kelowna will be open to the public, providing information about all programs and how the launch of iPads and eText in the classroom will help enhance students' education.
With online and technology-based learning becoming increasingly popular, the iPad has become a revolutionary learning tool. At Vancouver Career College,traditional textbooks are being traded in for eText on the iPad, giving students the opportunity to use cutting-edge technology that enhances their learning, productivity and employability.
At Vancouver Career College, programs combine classroom learning with practical training from industry-experienced instructors to help students master the tools and techniques they'll use on the job. The programs include practicum placements that allow students to put their training into practice, gain hands-on experience in the field, and quickly enter the job market. The new iPad and eText initiative will give Vancouver Career College graduates yet another skill set to set them apart from the competition.
Vancouver Career College would also like to encourage open house attendees to use social media to announce their arrival at the event. The first ten people to arrive and check into each campus using social media will receive a free T-shirt, and all those who check in using social media will be entered to win $100 iTunes gift card. Attendees can choose to check-in using foursquare or by posting their arrival to Facebook or Twitter.
The open house takes place on September 14, 2011 at all campus locations from 4:00 to 7:00pm. To RSVP, please call 1-877-607-7819.
For more information about Vancouver Career College, please visit http://www.vccollege.ca or find us on Facebook and Twitter.
About Vancouver Career College
Vancouver Career College is dedicated to providing students with the highest standard of education and career training, with all programs granted approval by the provincial government of British Columbia. With small classes, industry-relevant programs and six convenient locations across BC, Vancouver Career College is one of the region's leading career training schools with solid results in job placement for graduates.
Media Contact:
Melissa Wood
Communications Manager
778.331.8262 ext. 2145
###