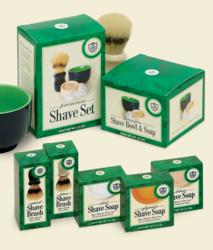 All of our soaps are made a batch at a time from quality, American-made ingredients in our Texas-based factory.
Austin, TX (PRWEB) August 21, 2012
With more than a hundred years experience and available at retailers nationwide, van der Hagen Enterprises, manufacturer of premium shave products for men, is declaring granddads had it right from the start: a bowl and a brush has always been the better way to shave. The family-owned company's handmade, retro-inspired products make for a more cushioned, precise, and functional shave at an affordable price.
For over 20 years, the van der Hagen family has been the world's premier specialty bar soap manufacturer. Their products include quality badger and boar bristle brushes, scented and unscented shave soaps, monogrammed shaving bowls, post shave balms and lotions, face scrub, and more. Each van der Hagen soap is kettle processed and handmade with the highest grade fatty acids and pure ingredients like Mango, Cocoa Butter, and Glycerin. Plus, dapper johns have their pick of either van der Hagen's Classic line or Luxury line, depending on their fancy.
"van der Hagen shave products aren't designed with any gimmick in mind," says Marty van der Hagen, President of van der Hagen Enterprises. "For centuries, men have been using a self-lathering shave soap and brush to get the shave they desire; there was never a need for fancy gel-to-foam creams then and there still isn't now. Our consensus is if it was good enough for your grandfather, it is good enough for you. Why fix what was never broken to begin with?"
Despite the brand's old timey feel, van der Hagen Enterprises' back to basics approach is not for quirks, but for functionality. Research shows that applying a shave soap with brush not only exfoliates skin, but it also lifts whiskers in a way which results in a much closer and more cushioned shave. In addition, van der Hagen Enterprises' kettle processed shave soaps and formulas make for superior razor glide, rinse clean, and won't clog razors or pores. Much like a well-poured draft beer, van der Hagen's shave suite gives men a taste of the frothy, consistent, and smooth.
"All of our soaps are made a batch at a time from quality, American-made ingredients in our Texas-based factory," says van der Hagen. "However, while we have maintained the time-tested, quality-driven hand-made process of the past, we have also incorporated many modern technologies to ensure our products are non-irritating, non-comedogenic, and as pure as possible."
Now, more and more men are telling their aluminum shave cans to scram and getting with the times…the old times, that is.
As Pappy van der Hagen might say, "Keep your shoes shined, your hair combed, and always shave with a bowl and a brush." It's time to start shaving like a man.
For more information, please visit http://vdhent.com.
For media inquiries and/or to arrange an interview, please contact Tyler Barnett or Jessica Lieu at 323.937.1951.
###