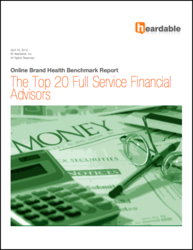 Vanguard's online engagement strategy is more authentic than many of its competitors
Temecula, CA (PRWEB) April 17, 2012
Heardable, the standard for measuring online brand performance, recognizes Vanguard (http://vanguard.com) as the most effective full service investment advice brand online. Vanguard's superior performance is highlighted in Heardable's latest benchmark report titled, "The Top 20 Full Service Financial Advisors."
Vanguard's brand health score of 644 out of 1,000 possible points beat its nearest competitor, Fidelity, by 10 points, or 1.55%, and surpassed third place Ameriprise by 30 points, or 4.66%. The gap between Vanguard and lowest-ranked UBS Wealth Management was 538 points, or 83.54%.
The report had two objectives: 1) to help leaders in the financial services industry understand the value that 'brand data' brings to enterprise decision-making, 2) to help these same leaders understand the levers through which online brand value is created in order to help identify opportunities to grow the value of their brands going forward.
Top 10 Full Service Investment Advice Brands (ranked by Heardable Score)
1. Vanguard - 644
2. Fidelity - 634
3. Ameriprise - 614
4. Merrill Lynch 565
5. Prudential - 542
6. Baird - 539
7. Legg Mason - 536
8. T. Rowe Price - 520
9. Wells Fargo Advisors - 479
10. Raymond James - 475
Of the four dozen vendors evaluated, including popular brands such as Edward Jones, Genworth and Wells Fargo Advisors, twenty brands qualified for inclusion in Heardable's benchmark report based on 796 criteria corresponding to six major areas of analysis:
1. Mobile readiness
2. Social media participation & fan base
3. Content publishing and syndication
4. Visitor measurement & optimization
5. Website accessibility & usability
6. Search engine optimization
So how did Vanguard rise to the position of category leader? Three areas of competence stood out:
1) mobile user experience
2) social media participation
3) search optimization
"Vanguard understands that social media is a conversation engine, not an ad network, which allows them to act socially throughout the enterprise rather than simply broadcasting that they are a social brand," said John Sharp, CTO and co-founder of Heardable, Inc. "This subtle difference is what makes Vanguard's online engagement strategy more authentic than many of its competitors who may be popular, but have weaker brand advocacy."
Brands Featured in the Report
Ameriprise, Axa-Equitable, Baird, Convergent Wealth Advisors, Deutsche Bank Wealth Management, Edelman Financial, Edward Jones, Fidelity, Genworth, HighTower Advisors, John Hancock, Legg Mason, Merrill Lynch, Morgan Stanley, Prudential, Raymond James, T. Rowe Price, UBS Wealth Management, Vanguard, Wells Fargo Advisors.
Details about the report, "The Top 20 Full Service Financial Advisors," including a free PDF excerpt, can be found at:
http://heardable-reports.myshopify.com/products/the-top-20-full-service-financial-advisors
About Heardable
Heardable is the standard for measuring online brand performance. Heardable answers the question, "What would you like to know about your brand today?" Heardable customers leverage contextual analytics and trend data to make smarter, faster business decisions. 15 million brands x 700+ data variables x 1000's of customizable reports. Heardable's big data repository can be utilized by any business looking for ways to optimize their online performance, boost brand awareness, and increase revenue. Heardable, Inc. is a privately held company based in Southern California. http://heardable.com
For more information about Heardable, please contact:
Jon Samsel, CEO - Heardable, Inc.
T: 888-520-0034 office, E: samsel(at)heardable(dot)com