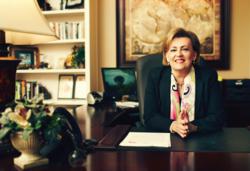 It is an honor to be nominated as one of OCBJ's 2011 Women in Business and to be included with so many outstanding professional women in Orange County
Costa Mesa, CA (PRWEB) May 13, 2011
Vanguard University is proud to announce that Dr. Carol Taylor has been nominated for the 2011 Orange County Business Journal Women in Business Awards. The winner will be announced on May 25 at the OCBJ Luncheon and Awards Program at the Hyatt Regency Irvine.
The Women in Business Awards Program is designed to recognize Orange County women who have made impactful contributions to their professions as well as within their communities. Their tenacity and drive have established, nurtured, guided and transformed countless successful businesses. Women are influential members of the OC business community, whether in the corporate, entrepreneurial or not-for-profit sector. With 93,406 women-owned businesses in 2007, Orange County ranked 6th among counties nationwide according to the U.S. Census Bureau's Survey of Business Owners.
"I already have the great joy of serving one of Orange County's finest colleges - Vanguard University, so it is an added honor to be nominated as one of OCBJ's 2011 Women in Business and to be included with so many outstanding professional women in Orange County," says Dr. Taylor.
About Vanguard University
Vanguard University (http://www.vanguard.edu) is a private, Christian, comprehensive university of liberal arts and professional studies, accredited by the Western Association of Schools and Colleges (WASC). U.S. News & World Report has ranked Vanguard # 9 among the best baccalaureate colleges in the west in their 2010 rankings of colleges and universities. The Princeton Review named VU a 2010 "Best Western College."
# # #