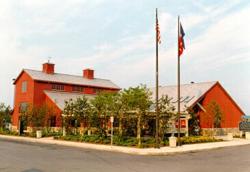 Replacing the 23 metal halide fixtures with LED fixtures will reduce Light Energy Consumption by 77 percent.
Modena, NY (PRWEB) August 30, 2012
Modena Travel Plaza, located 66 miles north of New York City on the southbound side of the New York State Thruway, has adapted a corporate sustainability program. Larry Bennett, owner, of L-K Bennett Enterprises LLC, has three goals in mind when looking at new projects: improve security/safety, reduce maintenance costs and save energy. After completion of the Light Energy Audit & Analysis, executed by Vanguard Energy Solutions, L-K Bennett Enterprises LLC replaced 23 Metal Halide wall packs with new LED (Light Emitting Diode) wall packs and achieved his objective.
"About 271 million vehicles travel more than 8 billion miles on the NYS Thruway each year" according to http://www.thruway.ny.gov. As 1 of the 27 travel plazas along the Thruway, L-K Bennett's top priority is the safety of visitors to and employees of the Travel Plaza. The LED wall packs not only support this goal by providing a safer environment with superior lighting but reduce energy consumption and problematic maintenance, as well.
Vanguard Energy Solutions http://www.vanguardenergysolutions.net preformed a commercial grade light energy audit of the Modena Travel Plaza and created an action plan to replace the 23 metal halide wall packs with energy efficient LED wall packs.
These new LED wall packs specified by Vanguard Energy Solutions will reduce light energy consumption by 77%, while bringing a brighter, cleaner light to the outside of the Travel Plaza.
About Vanguard Energy Solutions
Vanguard was established in 1972 as a commercial preventative maintenance company and expanded to a total Energy Solutions Company (ESCO) helping their clients achieve financial return on investments through energy efficiency. The most recent addition to their extensive line of products and services is indoor and outdoor LED Lighting.
Vanguard Energy Solutions preforms a comprehensive "Lighting Energy Audit and Analysis" of commercial, industrial, and municipal facilities. They can explain the LED Lighting Energy retrofit solutions available that can reduce your power consumption by 50-90 percent.
Contact Information:
If interested in learning more about LED Lighting or having a "Lighting Energy Audit and Analysis" completed visit http://www.vanguardenergysolutions.net or contact Kim at 855-533-5483.