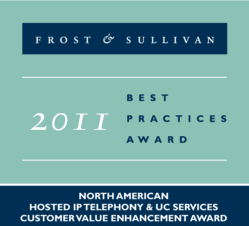 Frost & Sullivan's Best Practices Awards recognize companies in a variety of regional and global markets for demonstrating outstanding achievement and superior performance.
Ewing, NJ (PRWEB) September 01, 2011
Based on its recent analysis of the hosted Internet Protocol (IP) telephony and Unified Communications services market, Frost & Sullivan recognizes Vantage Communications with the 2011 North American Frost & Sullivan Award for Customer Value Enhancement. With its advanced hosted Private Branch Exchange (PBX), tightly integrated hosted contact center and Customer Relationship Management (CRM) applications, Vantage Communications is able to deliver unique and enhanced value to its customers.
With a long track record of delivering Software as a Service (SaaS), Vantage Communications delivers highly reliable services to its small and medium-sized business (SMB) customers. Even with competitively-priced service bundles, such as its C3 (Complete Customer Communications) package, Vantage Communications strives to ensure high quality of service for real-time communications and top-notch network availability and reliability.
Vantage leads with applications – C3's hosted IP communications portfolio is tightly integrated with advanced contact-center and CRM capabilities - but it also focuses on value and service reliability. Vantage really differentiates itself from other low-cost providers who may sacrifice quality in order to save a few dollars.
"The ability to utilize advanced contact-center and CRM capabilities through a flexible, on-demand delivery model is what appeals to Vantage's clients," said Frost & Sullivan Unified Communications Program Director Elka Popova. "In fact, many businesses are first enticed by the customer-care capabilities and see the addition of enterprise communications as a value-add to the core services that address their most critical business needs."
Instead of managing their service offerings only to the router, Vantage takes management all the way to the desktop. Vantage typically manages customer solutions end to end, delivering hosted applications over managed local access networks.
"Vantage works side-by-side with our solid partner channel and a customer's IT staff," said Robert Phelan, President of Vantage Communications, "thus leveraging a large pool of expertise to ensure that the implementation is successful. Also, Vantage does not mass-merchandize our services. Most of our implementations are customized based on a customer's needs."
Vantage Communications has kept a tight focus on the SMB sector throughout the years, looking to address these evolving customer needs by continuously enhancing its services and applications. In spite of the economic turbulence in 2009 and 2010, Vantage Communications managed to maintain healthy growth rates increasing its installed base by about 140 percent over the two-year period and by about 33 percent in the past year.
In recognition of these achievements and its keen eye on service quality, reliability and specific customer needs, Vantage Communications is the recipient of the 2011 North American Frost & Sullivan Customer Value Enhancement Award in the hosted IP telephony and UC services market.
Each year, Frost & Sullivan presents this award to the company that has demonstrated excellence in implementing strategies that proactively create value for its customers. This award recognizes a company's inordinate focus on enhancing the value that its customers receive, beyond simply good customer service, leading to improved customer retention and ultimately customer-base expansion.
Frost & Sullivan's Best Practices Awards recognize companies in a variety of regional and global markets for demonstrating outstanding achievement and superior performance in areas such as leadership, technological innovation, customer service and strategic product development. Industry analysts compare market participants and measure performance through in-depth interviews, analysis and extensive secondary research in order to identify best practices in the industry.
About Vantage Communications
With 38 technology patents, Vantage Communications offers voice and data services that empower businesses to unify and manage their internal and external communication processes more efficiently. Among its solutions is VIP Communications, a flexible, reliable, hosted telecommunications service that improves customer accessibility and disaster recovery. VIP Communications' inclusive, evolutionary delivery platform provides significant cost efficiencies, and its unmatched redundancy ensures business continuance. Other core applications include Contact Center, Vantage CRM and iSEEK Supercruncher Business Intelligence. Vantage applications are browser-based and available worldwide. Learn more at http://www.vantageip.com.
About Frost & Sullivan
Frost & Sullivan, the Growth Partnership Company, enables clients to accelerate growth and achieve best-in-class positions in growth, innovation and leadership. The company's Growth Partnership Service provides the CEO and the CEO's Growth Team with disciplined research and best-practice models to drive the generation, evaluation, and implementation of powerful growth strategies. Frost & Sullivan leverages 50 years of experience in partnering with Global 1000 companies, emerging businesses and the investment community from more than 40 offices on six continents. To join our Growth Partnership, please visit http://www.awards.frost.com.
###