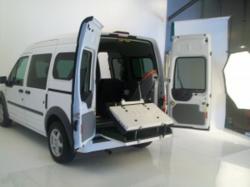 Tea, South Dakota (PRWEB) May 12, 2011
Mobility Sales, one of the nation's most respected providers of handicap vans and wheelchair lifts, now offers the Fiorella 500 platform lift, exclusively from VMI. This new wheelchair lift offers numerous benefits and comes with advanced features not found with other lifts available on the market.
Like many other wheelchair lifts, the Fiorella 500 can be installed either in the rear of a wheelchair van, or it can be configured for side access. The installation location is very important, and those with physical disabilities should speak with a certified mobility dealer to determine the right configuration to meet their specific needs. For instance, side-entry vans are predominantly used for individuals who are unable to drive themselves.
The new Fiorella 500 platform lift features an advanced design that includes an LCD interface with multiple language support. The interface offers maintenance information and reminders, and is the only such option available in US wheelchair lifts. In addition, the Fiorella 500 wheelchair lift also features a full 42" x 30" usable platform, with a weight capacity of 500 lbs.
The lift is also equipped with an anti-crush sensor to help prevent injuries to users, and also offers silent, smooth operation at all times. The unique construction of the lift also ensures that it remains quiet during transit – drivers and passengers won't have to worry about the lift rattling as the vehicle travels.
The Fiorella 500 wheelchair lift is an ideal option for installation with the new Ford Transit Connect, one of the most beneficial vans on the market for those with physical disabilities. The additional headroom in the Transit Connect means that customers never need to worry about modifications like lowered floors or raised roofs – it's an ideal size for those in wheelchairs just as it is.
With cutting edge technology and an innovative design, the Fiorella 500 platform lift offers some of the best operation, highest reliability and simplest use for customers shopping for wheelchair lifts.
To find out more about wheelchair vans and mobility equipment offered by Mobility Sales, visit http://www.MobilitySales.com.
About Mobility Sales: Mobility Sales has one goal – to provide their customers with the highest quality mobility solutions possible. They offer an immense inventory of wheelchair vans, wheelchair lifts and mobility equipment designed to give handicapped individuals greater freedom and more control over their lives.
###