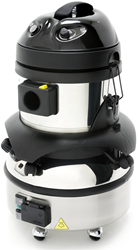 Daimer® is pleased to start the shipping of the KleenJet® Mega 500V to those in the business of cleaning homes. The multi-purpose vapor steam cleaner with a special Daimer® vacuum ...
Woburn, MA (PRWEB) February 08, 2013
Daimer Industries, Inc.®, the world's most popular American supplier and brand of industrial-level cleaning systems for hundreds of applications globally, including such technologies as floor cleaning machines, high flow steam cleaner machines, industrial car wash machines, multi-use car detailing systems, and other innovative cleaning systems, has rolled out its KleenJet® Mega 500V, a power-rich commercial steam cleaner vacuum system that is excellent for house cleaning applications.
Aside from steam cleaning various surfaces within homes, the machine generates pressure levels up to 75 psi and temperatures up to 310ºF for such applications as spot cleaning carpets, although it is not a professional carpet steam cleaner. High temperatures created within 10 minutes through Daimer®'s heating system, which includes a heavy-gauge stainless steel boiler as well as other sophisticated and proprietary technologies, can easily clean dirt-laden kitchen counter tops, appliances, bathroom showers, windows, glass, tiled floors and walls, vinyl and hard wood floors, mattresses, and many more surfaces.
"Experts who perform house cleaning jobs have to contend with various kinds of dirt and other deposits, such as human skin cells, animal dander, dust, and more. For proper maintenance and disinfection of surfaces, highly sophisticated machines with the latest technologies are required," says Daimer Industries, Inc.® spokesperson, Matthew Baratta. "Daimer® is pleased to start the shipping of the KleenJet® Mega 500V to those in the business of cleaning homes. The multi-purpose vapor steam cleaner with a special Daimer® vacuum features technologies that improve the cleaning power of the machine, and include accessories that help cleaning professionals clean nearly every nook and cranny within a house."
Daimer®, the first United States company to launch the most extensive and durable industrial steam cleaner systems, commercial steam cleaners, steam vacuum cleaners, and vapor optimized floor steam cleaner systems in North America, ships cleaning machines for virtually all kinds of commercial cleaning applications around the world. More than 700 models of cleaning systems with the most modern technologies are now available in the market. Daimer® has a customer base spread across hundreds of nations, and many international and American companies trust in its machines due to their expert engineering and high-quality systems.
Traditionally, cleaning workers have used cleaning liquids and chemical products, such as polishes, glass cleaners, disinfectants, air-freshening sprays, and other harmful cleaning agents for maintaining house interiors. However, these products can release irritating vapors that trigger asthma and various allergies in elderly people, children and pets. A Super-Hot vapor machine is the among the best steam cleaner systems offering the most eco-friendly way of cleaning most interiors of a house. In addition to continuous high-pressurized steam flow, Daimer®'s steam cleaner systems also feature HEPA filters to extract particles as small as 3 microns. The company's Totally Sealed Water Capture™ (TSWC™) technology allows for the effective elimination of all types of allergens during the cleaning process.
During the company's special promotions, each of its HEPA vapor steam cleaner machines includes its patent-pending Advanced Thermal Ionic Sanitization™ (ATIS®) technology that has been scientifically proven to kill up to 99.999 percent of disease-causing bacteria, such as Listeria, MRSA, Salmonella, S. aureus, and E.Coli. The KleenJet® Mega 500V provides enhanced sanitization along with superior cleaning. The systems are especially excellent floor cleaning machines.
Professionals involved in the cleaning business require machines that clean well and improve their productivity as well. Daimer® understands this fact and, therefore, includes various performance-enhancing technologies in its systems. The company's Advanced Self-Regulating Continuous Refill Technology™, embedded in many of its steam cleaner systems, allows for the refilling of the machine even when it is operational. Other brands' machines that do not have this feature need users to depressurize the machines in order to refill them. Operators then have to wait further for the system to reheat. This whole process wastes nearly forty minutes.
The dry vacuuming feature of Daimer®'s commercial steam cleaner systems extracts dirt, bed bugs and allergens from surfaces like carpets, mattresses, and more, while the wet vacuuming feature saves users the time required to cleanup moisture left on many surfaces after cleaning. The system is also an excellent grout steam cleaner.
Durability is one important factor desired by anyone seeking to buy a commercial portable steam cleaner machine. Daimer® machines are the highest ranked brand on the internet. The company uses solid stainless steel within all of its models. Moreover, some of its technologies increase the life of its machines and reduce the repair costs. For example, the Boiler Scale Reduction™ technology, available in the KleenJet® Mega 500V steam cleaner, generates maximum temperature and pressure by preventing the formation of mineral and scale deposits through a continuous vibrating mechanism. The technology increases the lifespan of the boiler. Daimer® offers a lifetime warranty on its boilers.
For better cleaning, various accessories are bundled with Daimer®'s commercial and industrial steam cleaner machines. Accessories, such as large rectangular floor brushes with towel clips and microfiber towels are ideal for steam mopping, while small triangular brushes are available for cleaning corners. Steam plungers are even included for sanitizing bathroom sink drains in houses.
For Additional Information:
More data about the KleenJet® Mega 500V steam vacuum cleaner can be found within the company's official website, or by contacting Matthew Baratta at (888) 507-2220. The systems are shipped to 240+ countries across the globe.
About Daimer Industries, Inc.®:
Daimer Industries, Inc.® is the globally renowned brand of cleaning machines with innovative technologies. Carpet steam cleaner systems, auto detailers, vapor steam cleaners, steam vacuum cleaners, and pressure wash systems are some of the machines offered by the company.