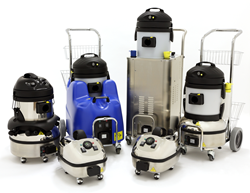 "Daimer® is extremely proud to be a beneficiary of the new "American Revolution" to take U.S. sales to new heights. The company is excited that its KleenJet® product line and new products have become so popular...
Woburn, MA (PRWEB) February 01, 2013
Daimer Industries, Inc.®, the world's most reputed American brand of steam cleaner machines, including vapor steam cleaner equipment and steam vacuum cleaner systems shipped to practically every corner of the earth, has reported a 134% hike in its 2012's revenue. The 100% American company, which is committed to hiring only U.S. citizens to its staff, has seen a huge rise in sales across the board among all steam cleaner models and to most industries. The company has done its part in driving U.S. national and international sales to higher levels in this economic downturn. Daimer® offers over 700 models in its entire line.
"As the nation's economic recovery is expected to be slow even in the first half of 2013 and in the light of wide trade deficit, Americans and foreigners alike are motivated to buying American brands more than ever before. American and international customers are now more dedicated to buying excellent U.S. brand products, and United States customers want to help keep the money in the United States," states Matthew Baratta, spokesman of Daimer Industries, Inc.®. "Daimer® is extremely proud to be a beneficiary of the new "American Revolution" to take U.S. sales to new heights. The company is excited that its KleenJet® product line and new products have become so popular among the national and international community. The sales are higher than the company had anticipated for 2012."
For the nation's economic growth, Daimer® suggests prospective steamer buyers examine websites and locations and ensure the company is a pure U.S. operation. Company information should be clearly displayed on the bottom of the website or in a contact page. American companies such as Daimer® pay U.S. taxes and help fuel growth while narrowing the trade imbalance.
Daimer®'s exclusive technologies, incorporated in its products, have actually captivated and excited buyers, who are seeking the best, most technologically superior commercial steam cleaner and steam vacuum cleaner machines in the industry. Daimer®'s industrial steam cleaner models are bought by virtually all sectors, such as those involved with hotels, schools, health care, auto detailing, food service, government offices, retail stores, military, and countless more. Vapor steamers make excellent grout steam cleaner equipment
.
The company's KleenJet® vapor steam cleaner models come with a host of technologies that make the cleaning process easy and increase the productivity of the cleaning professional. The company's Advanced Self-Regulating Continuous Refill Technology™ allows for the addition of water while the machine is still working. Machines that feature this technology come with two tanks, one pressurized boiler and another a non-pressurized water chamber feeding the boiler. For refilling, users simply add water to the non-pressurized tank. The technology is the best steam cleaner functionality to lets users work non-stop without powering off the machine repeatedly for refilling.
Another technology incorporated in some models allows cleaning professionals to work without interruption includes the Non-Stop Steam™ technology that emits high pressure vapor flow all day without any drop in the pressure. Models with Non-Stop Steam™ offer the highest pressure in the industry with 110 volt power. The systems are ideal to use as floor cleaning machines for tile, marble, and other types of hard surface floors.
Some of Daimer®'s steam cleaner systems include the KleenJet® Mega 1000CV, the KleenJet® Supreme 3000CV, and the KleenJet® Ultra 5000CV, as well as many more models. The machines create temperatures up to 369°F and pressure as high as 125 psi for efficiently dissolving even the toughest dirt deposits. The company's industrial models top out at 150 psi, the highest levels possible in the world for vapor machine technology, and temperatures approaching an astounding 400°F. The company also offers powerful carpet steam cleaner equipment dedicated to carpeting and upholstery surfaces.
Daimer®'s Boiler Scale Reduction™ technology, available in all of Daimer®'s steam vacuum cleaners, increases the life of the boiler by preventing mineral and scale buildup and maintaining maximum internal temperature and pressure. Additionally, all of the company's industrial steam cleaner machines feature Daimer®'s patented replaceable heating elements that allow for the replacement of only the heating elements in the very rare case it is necessary. Other portable steam cleaner brands do not offer heating element replacement, but rather a completely new boiler, which can cost up to 1000% more than Daimer®'s solution.
The company's steam vacuum cleaners not only clean, but also sanitize the surfaces as well. Machines with the company's patent-pending Advanced Thermal Ionic Sanitization™ (ATIS®) technology are certified to kill up to 99.99% of harmful bacteria, including MRSA, Listeria, Salmonella, E.Coli, S. aureus, mold such as Aspergillus niger. All of its machines with ATIS® come with an EPA number printed on them for authenticity. In addition, Daimer®'s Totally Sealed Water Capture™ (TSWC™) technology traps all allergens in water during the simultaneous steaming and vacuuming process. The process of removing the water is simple, taking just a few minutes.
Accessories, such as ten foot detachable steam hose with heavy-duty connections, triangular and rectangular brushes made of heavy-gauge nylon bristles, steel wool pads target grease buildup, extra heavy-duty steam/extraction extension rods, and many other parts increase the versatility of Daimer®'s commercial steam cleaner machines. A vast range of surfaces can be cleaned with the right accessories.
For Additional Information:
Learn more about Daimer®'s steamer models and exclusive technologies by visiting the company's website, or by calling Matthew Baratta at (888) 507-2220. The systems are available for exportation to over 240 countries worldwide.
About Daimer Industries, Inc.®:
Daimer Industries, Inc.® is the global provider of highly advanced cleaning machines, such as carpet steam cleaner systems, gum removers, hard surface cleaners, auto detailing systems, tile and grout cleaners, steam vacuum cleaners, bed bug removal machines, and pressure cleaners. These technologically superior equipment can be used for a varied number of applications, such as sidewalk or parking lot cleaning, truck washing, hospital infection control, and more.