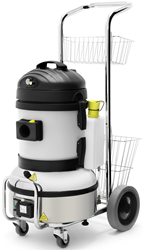 Daimer® is proud to launch the KleenJet® Mega 1000CVP – ATIS®, a steam cleaner that features exclusive technologies for reducing bacteria and achieving better cleaning results.
Woburn, MA (PRWEB) May 22, 2013
Daimer Industries, Inc.®, the world's leading brand of high-quality steam cleaner systems, including advanced carpet steam cleaner machines and industrial steam cleaner systems, has unveiled the KleenJet® Mega 1000CVP – ATIS®. The anti-bacterial commercial steam cleaner with dry and wet vacuuming functionality features Daimer®'s patent-pending Advanced Thermal Ionic Sanitization™ technology (ATIS®). The company's disinfection feature can kill up to 99.999% of harmful bacteria, including S. Aureus, E.Coli, and mold species per independent laboratory tests.
"The best resort hotels are more meticulous when it comes to floor and bathroom maintenance. Patrons expect the best when they spend higher prices for accommodations, and they absolutely loathe dirty floors and bathrooms. Advanced cleaning machines with superior technologies are required to maintain lobbies, restaurants, restrooms, and other areas," says Daimer Industries, Inc.® spokesman Matthew Baratta. "Daimer® is proud to launch the KleenJet® Mega 1000CVP – ATIS®, a steam cleaner that features exclusive technologies for reducing bacteria and achieving better cleaning results."
The KleenJet® Mega 1000CVP – ATIS® is among the most versatile and best steam cleaner machines in the industry. The system generates high temperatures up to 356°F and pressure levels up to 105 psi, both of which are ideal for most disinfecting and cleaning applications. The desired temperature is reached within 10 minutes due to the system's sophisticated heating system. The vapor steam cleaner model's continuous refill technology allows users to work continuously and productively throughout any job without actually shutting down the system to refill. The equipment's gun handle contains a variety of buttons to control pressure levels and the vacuum power.
Most U.S. based professional pest management companies have encountered a bed bug infestation in the past year, and a large percentage believe bed bugs are the most difficult to treat. Technology-enhanced portable steam cleaner machines with unique technologies are required to get rid off bugs from mattresses and other surfaces in hotels. The 1000CVP can be used as a powerful bed bug remover and mattress cleaning system as well.
Daimer®'s steam cleaner machines feature dry vacuuming capabilities to extract dirt, pollen, dust mites, bed bugs, pet hair, and other allergens from various surfaces, such as carpet, hard floors, mattresses, and more. The extracted dirt is then deposited into water for easy disposal. The HEPA Filtration technology featured with the KleenJet® Mega 1000CVP – ATIS® eliminates allergens of up to 3 microns in size for extra protection. Each of Daimer®'s Advanced Thermal Ionic Sanitization™ models includes an EPA number.
The commercial steam cleaner machine can work as a vapor steam cleaner, steam vacuum, or wet vacuum. The top-grade grout steam cleaner is ideal for users with varied cleaning requirements, such as removal of disease-causing bacteria. The sophisticated floor steam cleaner's patent-pending, ATIS® anti-bacterial device, which is embedded in the boiler of the machine, produces an exceptionally high kill rate on even some of the most dreadful bacteria like the drug-resistant Methicillin-resistant Staphylococcus aureus.
The industrial steam cleaner comes with a host of accessories, including 10' detachable steam/vac hose, nylon, brass, stainless and round detail brushes, small triangular brush for cleaning corners, steam plunger to sanitize bathroom sink drains, steel wool pad to place over some brushes for removing tough grease buildup, plush microfiber towels, extra heavy-duty steam/extraction extension rod, steam/vac squeegee for windows and glass, and more.
For Additional Information:
Learn more about Daimer®'s superior floor cleaning machines and technologies by visiting the company's website or by calling Matthew Baratta directly at (888) 507-2220. The machines are available for shipment to most countries around the globe.
About Daimer Industries, Inc.®:
Daimer Industries, Inc.® is a highly-reputed international supplier of more than 700 models of machines, such as carpet steam cleaner machines, pressure wash systems, gum removal systems, professional tile and grout cleaning equipment, and auto detailing systems for most cleaning applications worldwide.