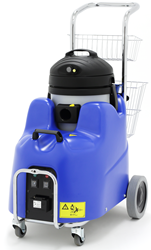 Daimer®'s latest commercial steam cleaner provides 50 percent faster cleaning, due to the company's steam vacuum technology that comes with the machine.
Woburn, MA (PRWEB) June 12, 2013
Daimer Industries, Inc.®, the world's leading USA provider of performance-enhancing steam cleaner systems, such as mobile carpet steam cleaner and steam vacuum cleaners, has launched technologically-advanced systems to clean and sanitize commercial restrooms. Commercial settings' maintenance workers and cleaning professionals generally purchase vapor steam cleaner systems for cleaning tile and grout surfaces.
Daimer® has unveiled effective technologies for enhanced and fast cleaning and disinfection of restrooms. The company's steam vacuum technology ends the need for operators to use towels after cleaning, unlike traditional steam cleaner machines without extraction capabilities. The steam vac technology producing the best steam allows for more powerful and simultaneous cleaning and extraction.
The KleenJet® Supreme 3000CV generates high temperatures up to 364°F and pressure levels up to 115 psi. The industrial steam cleaner works as a steam vacuum cleaner, vapor steamer machine, and dry/wet vacuum, and also comes with HEPA Filtration and Water Capture features.
Apart from cleaning and disinfecting surfaces, the versatile floor steam cleaner helps get rid of harmful bacteria, allergens, grease, dirt, oil, and other build-up from virtually all surfaces. The HEPA Filter included with the machine eliminate allergens up to 3 microns in size, while the company's optional, exclusive, Advanced Thermal Ionic Sanitization® (ATIS®) technology is scientifically proven to remove 99.99 percent of disease-causing harmful bacteria, such as Salmonella, E.Coli, MRSA, and even mold. The KleenJet® Supreme 3000CV steam cleaner can be utilized for spot cleaning carpets, however, it is not considered as a carpet steam cleaner.
"Lack of proper cleaning and disinfection can lead to the development of germs in restrooms," states Matthew Baratta, spokesman of Daimer Industries, Inc.®. "Daimer®'s latest commercial steam cleaner provides 50 percent faster cleaning, due to the company's steam vacuum technology that comes with the machine. The cleaning process becomes more effective, productive, and sanitary with this technology."
Nearly 60 percent of American people are extremely concerned about public restrooms' unsanitary conditions. Doorknobs, faucets, stall door handles, toilet flushes, and other surfaces are highly prone to germ formation.Daimer®'s advanced portable steam cleaner systems are best for cleaning tile and grout surfaces, walls, sinks, stalls, mirrors, urinals, and many other items. The company's steam vacuum feature and HEPA Filtration technology provide fresher and germ-reduced restrooms.
Continuous-Refill Offers Maximum Productivity
Conventional floor cleaning machines come with only one boiler chamber that requires the operators to power down the system completely for nearly 40 minutes while the machine reheats. However, the KleenJet® Supreme 3000CV comes with Daimer®'s Continuous Refill technology, offering enhanced productivity by letting the users refill the machine even while it is still in operation.
The reliable grout steam cleaner features a dual-chamber configuration that includes a non-pressurized water chamber and a separate boiler that uses self-regulating technology to draw water from the water chamber when the water reaches a pre-set level. The top quality vapor steam cleaner super-Hot™ technology creates and maintains super heated water temperature, so the machine starts working immediately after refilling, even when cold water is added to it.
Daimer® offers exclusive technologies with its new commercial steam cleaner machines, so that the machines can be used for many years reliably. The KleenJet® Supreme 3000CV comes standard with replaceable heating elements that reduce the maintenance expenses drastically. In addition, Daimer®'s boiler scale reduction technology prevents the formation of minerals and scale and helps maintain maximum temperature and pressure.
For Additional Information:
To discover more about the KleenJet® Supreme 3000CV, visit the company's website or call Matthew Baratta directly at (888) 507-2220. Daimer® machines are available for shipment to most countries.
About Daimer Industries, Inc.®:
Daimer Industries, Inc.® is a leading supplier of over 700 models of advanced carpet steam cleaner systems, vapor steamers, gum removal equipment, hard floor cleaning machines, and pressure wash machines. The company also offers many patented technologies for use within many industries.