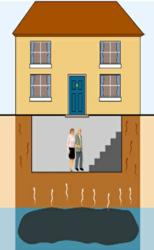 When a building requires VI mitigation and the general public or tenants may access the building, the investigator is required to pursue court ordered access to the property to perform the mitigation. Otherwise, the decision to allow the implementation of
New Jersey (PRWEB) June 26, 2013
Changes in New Jersey's VI guidance, and in a handful of associated documents, parallel ongoing changes to EPA's VI approach, especially regarding the toxicity of some compounds. New Jersey's guidance specifies that "Individuals involved in using this guidance may include licensed site remediation professionals (LSRP), non-LSRP environmental consultants, Department personnel, and other environmental professionals."
Several compounds in particular are affected by the updates: 1,1-dichoroethane (1,1-DCA); ethylbenzene, and 1,2,4-trichlorobenzene (TCB) are subject to NJDEP's Order of Magnitude evaluation, since their updated toxicities have increased by more than a factor of ten. VI assessments must be reevaluated within 90 days if these compounds are present above the revised screening levels. Two other chemicals, naphthalene and 2-methylnaphthalene – both once used in mothballs – have been added to the tables of NJDEP VI Screening Levels. These compounds are too heavy to be reliably detected with the standard TO-15 analysis using "Summa" canisters, and will generally require additional sampling and analysis via sorbent tubes and the TO-17 Method.
The New Jersey guidance also indicates that "When a building requires VI mitigation and the general public or tenants may access the building, the investigator is required to pursue court ordered access to the property to perform the mitigation. Otherwise, the decision to allow the implementation of VI mitigation is left to the property owner." Apparently, vapor mitigation is voluntary only in the case of privately-owned residences.
The revised spreadsheets for Johnson & Ettinger (J&E) modeling also are interesting. The models are run by inputting contaminant concentrations from groundwater, soil gas, or soil, together with the soil type, building size, and other site-specific parameters. The spreadsheets' output consist of risk factors, e.g., one in 150,000 excess cancers. EPA's draft 2002 VI Guidance made extensive use of the J&E models to derive groundwater, soil, and vapor screening levels for various compounds, and made the spreadsheets available to the public for use in site-specific conditions. The spreadsheets were widely used, but are falling out of favor due to concerns about their accuracy in dealing with numerous unknowns. But the NJDEP is forging ahead by revising the spreadsheets with updated toxicity values and chemical properties. Interestingly, the NJDEP also instructs users to adjust the calculated risk of certain compounds downward to account for chemical degradation – a feature missing in the J&E models, and a major reason for their declining popularity. The modeled risks for several other compounds, including trichloroethene (TCE), must be adjusted upward because of the presumed potential to cause mutations, which also is not done automatically by the spreadsheets.
The High Cost of Smelling Good
An interesting part of New Jersey's revised VI guidance is Appendix H, Common Household Sources of Background Indoor Air Contamination. In indoor air, background is contamination from indoor sources, such as paints, plastics, and cleaning products. Background can be hard to distinguish from VI, and often poses greater risk to occupants. The following compounds are listed as possible ingredients in scented candles, perfume, and room deodorizers: benzene; 2-butanone (MEK); chlorobenzene; 1,4-dichlorobenzene; ethylbenzene; n-hexane; tetrachloroethene (PCE); and toluene. If you want to look good by using nail polish, hair spray, or spot cleaner, you can add acetone; n-heptane; methylene chloride; 1,1,1-TCA; and TCE to the list.
The VI world is changing rapidly. We'll continue to keep you abreast of changes in future editions of Focus on the Environment.
Mort Schmidt is a Project Scientist with Cox-Colvin & Associates, Inc. He received his BS and MS degrees in Geology and Mineralogy from The Ohio State University, and has been a Cox-Colvin & Associates employee since 1997. Mr. Schmidt previously was employed by Ohio EPA's Division of Air Pollution Control. His areas of expertise include vapor intrusion and contaminant investigation and analysis, and he currently serves as Cox-Colvin's Practice Leader - Vapor Intrusion Services. Mr. Schmidt also is Cox-Colvin's Health & Safety Officer. Mr. Schmidt is a Certified Professional Geologist with AIPG and is a registered Geologist in Indiana, Kentucky, Pennsylvania, and Tennessee.
This article was distributed by FOUND, an internet marketing company.