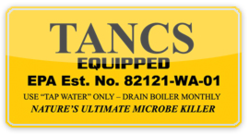 Scientific testing has shown that TANCS®-equipped steam cleaners are a safe and cost-effective way to kill canine parvovirus.
Lake Forest, Illinois (PRWEB) May 15, 2013
Today, 1-800-GO-VAPOR.com, a national ecommerce company specializing in top performing vapor steam cleaners for home and commercial use, announced that it intends to actively market the Ladybug Tekno 2350 vapor steam cleaner to animal rescue shelters.
"Disinfectants are used everyday by animal health care staff to kill bacteria, viruses and fungi on surfaces found within their clinics," says a company spokesperson. "While these products are necessary, not all are as effective as you might think."
Using ordinary tap water, the Ladybug Tekno 2350 with Ladybug's proprietary patented Thermo Accelerated Nano Crystal Sanitation (TANCS®) technology is scientifically proven to produce better results than traditional disinfectants, qualifying the Tekno as a disinfection device for the U.S. Environmental Protection Agency (EPA Est. No. 82121-WA-01) and making it more suitable than traditional hard-surface disinfectants for many healthcare settings such as animal shelters and hospitals.
According to 1-800-GO-VAPOR.com, many traditional disinfectants are highly toxic and contain potentially cancer-causing chemicals that threaten the health of animal clinic staff. The simplified water-only protocol of the Tekno 2350 cleans, disinfects and deodorizes almost any surface without chemicals.
Scientific testing has shown that TANCS®-equipped steam cleaners are a safe and cost-effective way to kill canine parvovirus.
Commonly called parvo, canine parvovirus is a contagious virus affecting dogs caused by the canine parvovirus type 2 (CPV-2) virus. Parvo attacks rapidly reproducing cells, like those lining the gastrointestinal tract. The disease is spread from dog to dog by oral contact with infected feces. It can be especially severe in puppies. In untreated dogs, the mortality rate can exceed 90 percent.
"Parvo is the most common infectious disease affecting dogs in America," says 1-800-GO-VAPOR.com. "TANCS®-equipped steam cleaners offer a proven and effective method for killing parvo without the toxic side effects of chemicals."
Independent scientific tests conducted at Microbiotest Labs, Virginia, and Nelson Labs, Utah, demonstrated that a 7-second application of TANCS® resulted in a 5-7 log reduction of canine parvovirus.
Located in Lake Forest, Illinois, 1-800-GO-VAPOR.com is moving fast to educate consumers and businesses that finally, there's a feasible, environmentally friendly alternative to chemicals. The company markets Ladybug, Reliable and Vapamore steam cleaners. For more information, call 1-800-468-2767. 1-800-GO-VAPOR.com is a proud member of the Safer Chemicals, Healthy Families coalition, a nationwide effort to protect families from toxic chemicals. To stay safe and avoid toxic chemicals, keep abreast of the latest news with 1-800-GO-VAPOR.com's Twitter account, @1800GOVAPOR.