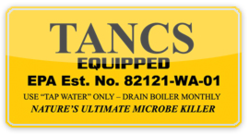 The yellow label tells you in a glance that your Ladybug qualifies as a disinfection device for the EPA.
Vernon Hills, Illinois (PRWEB) June 06, 2013
LadybugSteamCleaners.com, America's trusted source for premium Italian-made vapor steam cleaners for consumer and commercial use, today announced that the top-selling vapor steam cleaner for the first five months of 2013 was the Ladybug Tekno 2350 vapor steam cleaner. The premium steam cleaner has appealed to consumers and businesses worldwide that are looking to ditch their toxic cleaning products for an easier, safer and faster way to clean.
The Tekno ships standard with Ladybug's proprietary patented TANCS® technology.
Coming in at No. 2 was the Ladybug XL2300 steam cleaner, which offers TANCS® as an option.
Steam cleaners equipped with TANCS® qualify as a disinfection device for the U.S. Environmental Protection Agency (EPA).
"That our highest priced steam vapor system overtook the XL2300 as our best-selling steam cleaner doesn't shock or stun me," says V. K. Dunlop of LadybugSteamCleaners.com. "At a measly 13 pounds, it's hard to believe something so lightweight can clean so many things so thoroughly. It kills dust mites and bed bugs on contact, removes allergens, kills bacteria, and removes mold and mildew. It even gently removes wrinkles from clothing."
According to Dunlop, most buyers want TANCS®, and it appears that adding $250 to the price of a Ladybug XL2300 steam cleaner for the option, which is standard with the Tekno, put the Tekno into the top position.
"While bleach has been trusted for years as the perfect disinfectant, bleach leaves as many live bacteria cells as dead cells," says Dunlop. "But scientific testing has found that steam cleaners equipped with TANCS® kill the cells that are unreachable by bleach."
TANCS®-equipped steam cleaners proudly display a yellow label that says "EPA Est. No. 82121-WA-01" in bold letters.
"Don't be fooled by imitations," says Dunlop. "Ladybug is changing the way people clean with its revolutionary TANCS® technology. The yellow label tells you in a glance that your Ladybug qualifies as a disinfection device for the EPA."
With a showroom floor in Vernon Hills, Illinois, LadybugSteamCleaners.com is moving fast to educate consumers and businesses that finally, there's a feasible, environmentally friendly alternative to chemicals. For more information, call 1-877-840-2977. LadybugSteamCleaners.com is a proud member of the Safer Chemicals, Healthy Families coalition, a nationwide effort to protect families from toxic chemicals. To stay safe and avoid toxic chemicals, keep abreast of the latest news with LadybugSteamCleaners.com's Twitter account, @LadybugSteam.