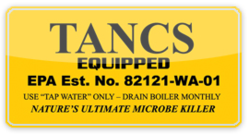 The yellow label tells you in a glance that the Tekno qualifies as a disinfection device for the EPA.
Lake Forest, IL (PRWEB) May 22, 2013
1-800-GO-VAPOR.com, the nation's go-to source for top performing vapor steam cleaners, today announced that it is developing several video tutorials to help both businesses and consumers find the right vapor steam cleaner. The new videos will also help existing 1-800-GO-VAPOR.com customers get the most out of their new purchase.
"Whether you are looking to purchase a vapor steam cleaner or already own one, our new videos will be the best place to learn about vapor steam cleaning," says a 1-800-GO-VAPOR.com spokesperson. "We know vapor steam cleaners inside out. So our videos will answer all your questions and help you learn more about the many things vapor steam cleaners can be used for."
The new vapor steam cleaner videos will be available later this year, highlighting steam cleaner basics and differences, and sharing steam cleaning tips and tricks—like how to disinfect a public bathroom with the top-selling Ladybug Tekno 2350 vapor steam cleaner.
According to 1-800-GO-VAPOR.com, the Tekno 2350 ships standard with Ladybug's proprietary patented TANCS® technology, qualifying the Tekno as a disinfection device for the U.S. Environmental Protection Agency (EPA Est. No. 82121-WA-01).
Located in Lake Forest, Illinois, 1-800-GO-VAPOR.com is moving fast to educate consumers and businesses that finally, there's a feasible, environmentally friendly alternative to chemicals. The company markets Reliable, Vapamore and Ladybug vapor steam cleaners. For more information, call 1-800-468-2767. 1-800-GO-VAPOR.com is a proud member of the Safer Chemicals, Healthy Families coalition, a nationwide effort to protect families from toxic chemicals. To stay safe and avoid toxic chemicals, keep abreast of the latest news with 1-800-GO-VAPOR.com's Twitter account, @1800GOVAPOR.