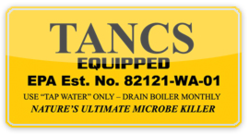 The yellow label tells you in a glance that the Tekno qualifies as a disinfection device for the EPA.
Lake Forest, Illinois (PRWEB) May 23, 2013
1-800-GO-VAPOR.com, the nation's go-to source for top-performing vapor steam cleaners, today announced that it now accepts personal checks as a form of payment for vapor steam cleaners. The company has accepted credit or debit cards, cashier's checks or money orders, and wire transfers since it opened its doors for business almost fifteen years ago.
"Yes, 1-800-GO-VAPOR.com now accepts personal checks for online purchases," says a 1-800-GO-VAPOR.com spokesperson. "Just add the vapor steam cleaner to your shopping cart and during the checkout phase select Personal Check under the Select Payment Method field."
1-800-GO-VAPOR.com requires all personal checks to clear prior to order fulfillment. The average time for a check to clear is between two and three business days.
"Once the check clears, your order will be shipped," says 1-800-GO-VAPOR.com.
In addition to accepting personal checks, 1-800-GO-VAPOR.com is putting a few other things in practice to make shopping easy for a vapor steam cleaner. For example, earlier this week the company announced that videos will soon be available, highlighting vapor steam cleaner basics and differences, and sharing steam cleaning tips and tricks — such as how to disinfect just about any surface with the top-selling Ladybug Tekno 2350 vapor steam cleaner.
According to 1-800-GO-VAPOR.com, the Tekno 2350 ships standard with Ladybug's proprietary patented TANCS® technology, qualifying the Tekno as a disinfection device for the U.S. Environmental Protection Agency (EPA Est. No. 82121-WA-01).
Located in Lake Forest, Illinois, 1-800-GO-VAPOR.com is moving fast to educate consumers and businesses that finally, there's a feasible, environmentally friendly alternative to chemicals. The company markets Reliable, Vapamore and Ladybug vapor steam cleaners. For more information, call 1-800-468-2767. 1-800-GO-VAPOR.com is a proud member of the Safer Chemicals, Healthy Families coalition, a nationwide effort to protect families from toxic chemicals. To stay safe and avoid toxic chemicals, keep abreast of the latest news with 1-800-GO-VAPOR.com's Twitter account, @1800GOVAPOR.