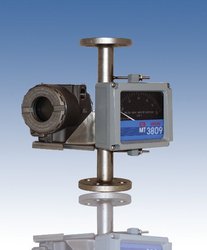 Customers from chemical, petrochemical and other industries have been searching for a variable area flow meter with FOUNDATION Fieldbus communications
Hatfield, PA (PRWEB) April 1, 2009
Brooks Instrument, a world-leading flow measurement and control provider, is pleased to release the FOUNDATION Fieldbus option on its variable area flow meters, becoming the first variable area supplier in the world to offer this communication option. Brooks Instrument had previously launched the first thermal mass flow controller with FOUNDATION Fieldbus in early 2008 and quickly realized that there existed a strong market demand for this communication option in variable area flow meter products.
FOUNDATION Fieldbus is an all-digital, two-way communications technology for plant instrumentation. It enables devices to support better operations and maintenance through expanded access to diagnostics and other digital information. Other benefits include lower engineering and installation costs and optional device-based control-in-the-field.
"Customers from chemical, petrochemical and other industries have been searching for a variable area flow meter with FOUNDATION Fieldbus communications," stated Jim Dillon, Product Manager, Variable Area at Brooks Instrument. "We're pleased to be the first variable area supplier to offer this communications option to the market, making Brooks, along with our thermal mass flow controller, your one stop shop for flow meters with FOUNDATION Fieldbus."
The new variable area FOUNDATION Fieldbus option is available on the MT3809 and MT3750 metal tube products. Designed to integrally mount to these meters, the FOUNDATION Fieldbus option utilizes proven and world approved SMAR transmitter technology and is DeltaV™ compatible.
Visit BrooksInstrument.com for more information about any of Brooks Instrument's FOUNDATION Fieldbus communication options.
About Brooks Instrument
Brooks Instrument is a world-leading flow measurement and control instrument provider, with headquarters in Hatfield, PA USA, and manufacturing locations, regional sales, and service offices in the Americas, Europe, and Asia. Brooks' products include glass and metal tube variable area meters (rotameters), thermal mass flow meters and controllers, Coriolis mass flow meters, controllers and transmitters, pressure control products, magnetic level instruments, and a variety of flow accessories. Since its founding in 1946, Brooks' products have supported the growth of dozens of industries from biopharmaceuticals, oil and gas, fuel cell research and chemicals, to medical devices, analytical instrumentation, semiconductor manufacturing, and more. Throughout the world, Brooks customers rely on a highly trained network of local representative specialists to help solve unique or unusual flow applications.
###