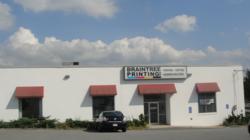 Our customers want to speak directly to their clients, addressing them by name and reaching out with unique messages and images," said Jim Corliss about the call for variable data printing.
Braintree, MA (PRWEB) December 19, 2011
According to Braintree Printing owner Jim Corliss, 2012 promises to be the year that printing gets personal as the Massachusetts-based printer expands its variable data printing services. "The era of mass-produced, cookie cutter printed materials is waning," he said. "Our customers want to speak directly to their clients, addressing them by name and reaching out with unique messages, images, and barcodes." Corliss said this one-to-one print marketing gets more attention and generates better results.
With 2012 just around the corner, Braintree Printing has seen a flurry of variable data printing activity as businesses update marketing materials for the new year. Companies are preparing for large-scale corporate conventions and trade shows by customizing printed documents for attendees. One of the few digital and offset printing companies in Massachusetts to offer start-to-finish services, from design to printing to bindery, Braintree Printing keeps the cost of variable data printing down by handling everything in-house.
Braintree Printing's variable-data printing fleet includes Oce VarioPrint 6250 and Xerox Nuvera 120 EA black & white copiers, two Xerox iGen 4 color copiers and the new Rena Mach 5 Digital Color Envelope Printer.
"We've also had an increase in the number of customers asking for index tabs in their marketing manuals and books using variable data printing," said Corliss. He said the company's Scotty 5000 index tab machine by Scott Index Systems is called into action on a daily basis.
Many convention-bound customers have large amounts of printed information they need to compile in a professional and organized manner. Index tabs help immensely by dividing printed pages into easily identifiable sections. "Index tabs highlight variable data and make each book's presentation look more professional," Corliss said.
Turn-around time and affordability have always been the hallmark of Braintree Printing's success and the company's foray into the variable data printing market enforces that philosophy. "Because we have variable data technology and bindery equipment in-house, we're able to complete every job with no downtime. And, since there's no sending phases of the printing process out to other vendors, we're keeping the total price of the finished product way down," Corliss said.
About Braintree Printing
Braintree Printing provides offset and digital printing for printers and print brokers throughout the Northeast. Owned by Jim Corliss, Jerry Hogan, and Jose Tafur, the 28-year-old company specializes in high-end 4 and 5 color offset printing and digital printing, book printing, and various types of bindery. With $5.97 million in annual sales, Braintree Printing ranked 28th nationwide and was the highest ranking Massachusetts printer on Quick Printing Magazine's 2011 Top 100 List. Braintree Printing operates in a 17,000 sq ft plant on Wood Road in Braintree, MA. Business hours are 8:30 am to 6:00 pm, Monday through Friday, with production areas operating 24/7 to meet customer demands. For information, call 781-848-5300 or visit http://www.braintreeprinting.com.
###