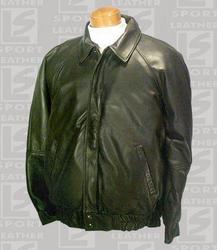 (PRWEB) June 9, 2010
As the summer season sets in, there is no better time to order varsity Letterman jackets from http://www.varsity-jacket.com, a division of Leathersport Branding Corp.
In business since 1995, Leathersport Branding Corp. has been manufacturing high quality Varsity Leather Jacket and varsity wool jackets for top universities, corporations and other entities in North America. Their quality is unmatched throughout the industry, and their exacting standards are the benchmark for schools and corporations looking to maintain a high public profile.
Now is the perfect time to get your order in for the upcoming school year and for corporate events taking place in late summer and early autumn. A six week turnaround time is standard at Leathersport Branding, so if you need school varsity jackets or varsity leather jackets sporting your school or company logo, now is the time to finalize design details and place your order.
If you are unsure of how to order, or are just exploring the idea of having Varsity Jackets made for your organization, Leathersport Branding will be happy to help familiarize you with the process of ordering school varsity jackets and Letterman varsity jackets. These timeless styles are perfect for employees to show their corporate or organizational pride, and of course for students just starting university to show off their school loyalty. Even charities and non-profit organizations can benefit from custom made varsity jackets to raise their profile in their communities.
Leathersport Branding has a vast design library to help you choose the appropriate design, and endless colour options to turn your varsity wool jackets into eye-catching garments everyone will notice. They can even do custom designs to include company and organizational logos, sponsorships and team mascots.
There is no such thing as off-season for varsity jackets. Give Leathersport Branding a call at 905 532-9797 to find out how to make a stylish statement for fall, or visit
http://www.varsity-jacket.com to see some examples of varsity leather and wool jackets.
###