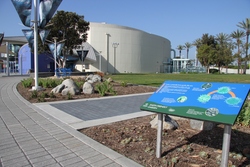 We had not used VAST Composite Pavers before
Minneapolis, Minn. and Long Beach, Calif. (PRWEB) June 8, 2010
VAST Enterprises, LLC, the material science research and manufacturing company that specializes in composite masonry for green building, announced that the Aquarium of the Pacific, Long Beach, Calif., selected VAST Composite Landscape Pavers for walkways in its new Earth-Friendly Garden. The design of the drought-tolerant, native garden includes four walkways, measuring 205, 178, 166, and 168 square feet.
VAST Composite Landscape Pavers in the 4x8-inch size, part of the VAST Pro Pavers product line, were specified for the project and supplied by Claddagh Paving, Fallbrook, Calif., VAST's distributor for Southern California. VAST fulfilled the Aquarium's requirements for walkway pavers: (1) a green paver product that can be installed with a permeable design; (2) strength and durability because the walkways are heavily trafficked; (3) a refined, elegant finished appearance; (4) complementary color choices; and (5) availability to homeowners for residential applications.
Starting with post-consumer recycled rubber and plastics, the VAST manufacturing process uses no water, consumes less than 20 percent of the energy required for concrete product manufacture, and releases just ten percent of the amount of greenhouse gases emitted in manufacturing concrete products. In addition, VAST Composite Pavers are 100 percent recyclable.
"We had not used VAST Composite Pavers before," said Tania Gybels, owner, Environmental Concept, Inc., the contractor on the project. "My first impression was that the pavers were very well-suited for this high-visibility public area project. The Waterwheel color chosen for the walkways complements the blue colors prominent in architectural features at the front of the Aquarium and the blue hues that will emerge in the garden as the plants grow and mature."
VAST's patented grid system enables contractors to work more efficiently, saving time and reducing the amount of labor required to set and align pavers. The VAST grids, manufactured in the same composite material as VAST Pavers, are laid out on a compacted base just like the base for conventional pavers. Installers then insert VAST Pavers into the grid, and the pavers are automatically spaced and aligned. "My two-man crew took three days to complete the VAST installation," said Gybels. "Using concrete pavers would have doubled the time."
The Aquarium hosts cultural festivals and other public events on a 34,000 square foot expanse of lawn adjacent to the main entrance. "Replacing a section of the lawn with a drought-tolerant garden, established a thematic extension of our Watersheds exhibit, demonstrates the practical application of the principles presented in the exhibit, and showcases techniques and products that visitors can use to save water in their own landscapes," said Fahria Qader, project manager, Aquarium of the Pacific.
Our Watersheds: Pathway to the Pacific is an exhibit that combines a classroom, interactive exhibit and native garden to tell the story of the relationship of people within the San Pedro Bay drainage basin and their environment. Visitors to the Aquarium are encouraged to better understand their role in water use and conservation and learn how making changes in their daily lives can help protect the region's critical water resources. The Watershed classroom features a living roof with coastal shrubs and grasses, and the surrounding garden displays native plants found only in local watersheds. The classroom is the first carbon-neutral building at any aquarium in the nation and the first LEED® Platinum certified building in Long Beach.
"The Watersheds exhibit demonstrates sustainable design and water conservation," Qader. "So we decided to apply and showcase these elements in a new earth-friendly, drought-tolerant garden at the entrance to the Aquarium."
A total of 5,000 square feet was carved out from the lawn to create the garden, which curves to form a border between the lawn area and the front sidewalk and entrance plaza of the Aquarium. The new garden includes 33 species and features varieties of succulents, agave, sages, and aloe. In keeping with the goal of the project, all the plants are easy to grow and easy to find at local garden centers and nurseries.
"Our goal is to show that drought-tolerant gardens are easy, functional and beautiful," said Barbara Long, vice president, special projects, Aquarium of the Pacific. "Funding from the U.S. Bureau of Reclamation and a partnership with the Long Beach Water Department enabled us to build the garden as an inspiring addition to the Aquarium."
"Illustrating one solution to Southern California's continuing water shortage, the garden features California native and drought-resistant plants, as well as a water-efficient irrigation system," said Linda Forde, LEED-AP, NUVIS Landscape Architecture & Planning, the firm that designed both the native garden in the Watersheds exhibit and the new Earth-Friendly Garden. "Their environmental advantages made VAST Composite Landscape Pavers a fitting choice for the new garden walkways."
Aquarium of the Pacific:
Founded in June 1998 as a nonprofit institution, the Aquarium of the Pacific in Long Beach, Calif. is dedicated to instilling a sense of wonder, respect and stewardship for the Pacific Ocean, its inhabitants and ecosystems. The fourth largest aquarium in the nation, it is home to over 11,000 animals in more than 50 exhibits that represent the diversity of the Pacific Ocean. Each year more than 1.5 million people visit the Aquarium. Beyond its world-class animal exhibits, the Aquarium offers educational programs for people of all ages, including Aquarium on Wheels outreach programs for low-income inner city schools. The Aquarium is a leader in green practices, including its LEED® platinum Watershed classroom and its commitment to grow without increasing its carbon footprint. For more information, visit the Aquarium's website http://www.aquariumofpacific.org.
NUVIS Landscape Architecture and Planning:
Since 1971, NUVIS has provided the full spectrum of professional landscape architectural services, from creative idea generation to graphic conceptuals through construction documents and field observation, for a multitude of private developers, design professionals, public agencies, and international clients. Based in Costa Mesa, Calif. with locations in San Ramon, Calif., Las Vegas and Scottsdale, Arizona, NUVIS provides solutions for people, environments, and experiences. To connect with NUVIS, start by visiting http://www.nuvis.net.
Environmental Concept, Inc.:
Founded in 1991, Environmental Concept (http://www.envconcept.com) offers landscape services to the finest residences and commercial properties in Southern California. Environmental Concept creates and maintains unique outdoor living through gardening and horticulture, planting, hardscapes, water features and irrigation, and outdoor lighting. Committed to healthier environments, our sustainable practices include stormwater management, water-efficient landscaping, rooftop gardens and plantable driveways, protection and restoration of native plants, and solar-heated and saline swimming pools. Our work has been feature on Oprah and HGTV.
VAST Enterprises, LLC:
VAST applies its patented technology to transform recycled materials into a new resource for green building: composite masonry. VAST composite products -- including landscape pavers, permeable pavers for stormwater management, deck pavers and thin brick -- offer an engineered alternative to molded concrete and clay brick. VAST meets the most demanding requirements for aesthetics, durability, sustainability and installation efficiency. Award-winning VAST pavers deliver rich colors, superior slip resistance and unbeatable strength at one-third the weight of concrete pavers. VAST can contribute to qualification for more LEED® credits than any other paver. Today, every 5,000-square foot VAST landscape installation keeps 2,500 scrap automobile tires and 75,000 plastic containers out of U.S. landfills. Tomorrow? The Future is VAST™. Learn more at vastpavers.com. Then call (612) 234-8958.
LEED® (Leadership in Energy and Environmental Design) is registered trademark of the U.S. Green Building Council.
###