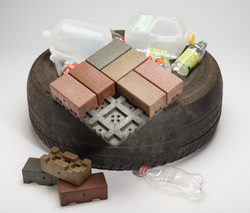 Every 5,000-square foot installation keeps 2,500 tires and 75,000 plastic containers out of U.S. landfills
Minneapolis, MN (PRWEB) February 22, 2011
The New Year has begun for VAST Enterprises with yet another accolade for VAST Composite Pavers, the innovative pavers manufactured in an eco-friendly composite of recycled materials.
The February issue of Green Builder magazine features VAST(R) Composite Pavers as one of the Hot 50 Products for 2011. In December 2010, BUILDERNews included VAST as one of the selections for its annual Best Product picks. And in November 2010 at Greenbuild, the world's largest green building expo, Environmental Design + Construction (ED+C) announced that VAST Composite Permeable Pavers were voted Best Exterior Product in the annual Readers' Choice Awards..
VAST Enterprises is the materials science research and manufacturing company that invented and patented composite masonry: the world's first and only rubber-plastic composite that offers the strength, durability, natural appearance, and design versatility to replace molded concrete and traditional clay brick in hardscape, landscape and flat roof applications.
VAST Composite Pavers are cradle-to-cradle green and contribute to more LEED® green building credits than any other paver. VAST manufactures pavers in its patented composite of 95 percent recycled car tires and plastic containers.
"Every 5,000-square foot installation keeps 2,500 tires and 75,000 plastic containers out of U.S. landfills," said Steve Smith, chief technology officer, VAST Enterprises, LLC. "Compared to concrete product manufacturing, the VAST production process requires 94 percent less energy and results in 89 percent less greenhouse gas emissions."
"Our technology enables us to produce composite masonry products for green building. Because products manufactured in our composite material are one-third the weight of concrete, VAST can also be used for applications for which concrete or bricks would be too heavy. And we can develop products that are faster to install for professional contractors and easier to use for DIY consumers," said Andy Vander Woude, LEED AP, chief executive officer, VAST Enterprises, LLC. "That's why VAST keeps winning recognition for innovation."
VAST Composite Pavers continue to be featured in high-profile projects across the U.S. and Canada. These projects include the Aquarium of the Pacific in Long Beach, Calif., the IRET Corporate Plaza in Minot, N.D., and the Pete Dye-designed Pound Ridge Golf Club in Westchester, N.Y.
VAST Enterprises, LLC
VAST applies its patented technology to transform recycled materials into a new resource for green building: composite masonry. VAST composite products -- including landscape pavers, permeable pavers for stormwater management, deck and roof pavers, and thin brick -- offer an engineered alternative to molded concrete and clay brick. VAST meets the most demanding requirements for aesthetics, durability, sustainability and installation efficiency. Award-winning VAST pavers deliver rich colors, superior slip resistance and unbeatable strength at one-third the weight of concrete pavers. VAST can contribute to more LEED® credits than any other paver. Today, every 5,000-square foot VAST landscape installation keeps 2,500 scrap automobile tires and 75,000 plastic containers out of U.S. landfills. Tomorrow? The Future is VAST™. Learn more at http://www.vastpavers.com. Then call (612) 234-8958.
LEED® (Leadership in Energy and Environmental Design) is registered trademark of the U.S. Green Building Council.
Note to Editors: High-resolution product and project images are available to members of the media upon request. Executives at VAST Enterprises, LLC are available to the media for interviews.
# # #