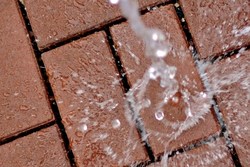 VAST continues to win awards because green building professionals and technology experts alike understand the significance of VAST's scientific breakthrough
Minneapolis, MN (PRWEB) November 30, 2010
For the second year in a row, VAST Enterprises went home from Greenbuild with an ED+C Readers' Choice Award for Best Exterior Product/Design. Winners were announced in Chicago on November 16, 2010 at Greenbuild, the world's largest exhibition devoted to green building. Last year, VAST Composite Landscape Pavers took the prize; this year, VAST Composite Permeable Pavers.
VAST Enterprises is the materials science research and manufacturing company that invented composite masonry as an eco-friendly alternative to clay brick and concrete pavers. The Readers' Choice Awards is an annual online contest sponsored by Environmental Design + Construction (ED+C) and Sustainable Facility magazines.
"VAST continues to win awards because green building professionals and technology experts alike understand the significance of VAST's scientific breakthrough," said Mark Moe, co-founder and chief operating officer, Entrepreneurs Management Group (EMG), Woodside, Calif. "VAST has engineered the world's first composite that combines recycled rubber and plastics to create a composite material that offers the strength, durability, natural appearance, and design versatility to replace molded concrete and traditional brick."
With its patented composite materials technology and high-tech manufacturing process, VAST has re-invented the permeable paver. VAST Composite Permeable Pavers reduce rain runoff into storm drains and decrease stormwater pollutants by infiltrating rainwater into the soil. The pavers have a tested infiltration rate of more than 450 inches per hour (4.9 gallons per square foot per minute) when installed with aggregate conforming to ASTM D448 No. 8. To ensure that the pavers can be installed according to ADA Accessibility Guidelines for Buildings and Facilities (ADAAG) # 302.3, VAST manufactures them with spacer lugs engineered to maintain a precise 0.275-inch space between pavers.
"VAST Composite Permeable Pavers, like all VAST composite masonry products, are made in our engineered composite material that is a proprietary blend of up to 95 percent recycled car tires and plastic containers," said Andy Vander Woude, chief executive officer, VAST Enterprises, LLC. "All our paver products are cradle-to-cradle green and enable green building projects to earn LEED® certification credits easier than any other paving material."
"The VAST production process requires 94 percent less energy and releases 89 percent less carbon dioxide than concrete product manufacture," said Steve Smith, chief technology officer, VAST Enterprises, LLC. "Our process does not emit mercury or generate any volatile organic compounds. With VAST, there's no scrap, no waste, and our products are 100 percent recyclable."
"VAST engineers its pavers so that they're not only green but superior to the products they replace. Their solution features their installation grid system. When VAST pavers are inserted into the grids, they are spaced and aligned correctly. And VAST pavers are one-third the weight of concrete pavers," said Phil Rausch, lead estimator and hardscape specialist, K&D Landscape Management, Rockdale, IL. "When we used VAST for the greenhouse project at Joliet Junior College, we learned for ourselves that the lighter weight and grids reduce installation time."
In addition to VAST Composite Permeable Pavers, VAST composite masonry products include VAST Composite Landscape Pavers, VAST Composite Deck Pavers, and VAST Composite Thin Brick. VAST Enterprises also manufactures Firestone SkyPaver™ Composite Roof Pavers for Firestone Building Products Company, LLC (FSBP).
VAST Enterprises, LLC
VAST applies its patented technology to transform recycled materials into a new resource for green building: composite masonry. VAST composite products -- including landscape pavers, permeable pavers for stormwater management, deck pavers and thin brick -- offer an engineered alternative to molded concrete and clay brick. VAST meets the most demanding requirements for aesthetics, durability, sustainability and installation efficiency. Award-winning VAST pavers deliver rich colors, superior slip resistance and unbeatable strength at one-third the weight of concrete pavers. VAST can contribute to more LEED® credits than any other paver. Today, every 5,000-square foot VAST landscape installation keeps 2,500 scrap automobile tires and 75,000 plastic containers out of U.S. landfills. Tomorrow? The Future is VAST™. Learn more at http://www.vastpavers.com. Then call (612) 234-8958.
LEED® (Leadership in Energy and Environmental Design) is registered trademark of the U.S. Green Building Council.
# # #