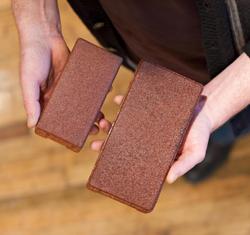 Our first composite masonry product, which debuted in 2007, was our 3x6-inch landscape paver
Minneapolis, MN (PRWEB) February 25, 2010
VAST® Enterprises, LLC, a material science research and manufacturing company, announced that it has developed a new version of VAST Composite Landscape Pavers in a 4x8-inch size. "Our first composite masonry product, which debuted in 2007, was our 3x6-inch landscape paver," said Steve Smith, vice president, business development, VAST Enterprises, LLC. "The 4x8 inch size is the most popular for large commercial hardscapes such as parking areas, walkways, building entrances and plazas. We developed our 4x8 paver and installation grid in response to increasing demand for VAST Composite Pavers in a larger size for more expansive applications."
Manufactured in VAST's proprietary composite blend of up to 95 percent recycled car tires and plastic containers, VAST Composite Pavers fulfill the most demanding requirements for hardscape beauty, design versatility, toughness, and installation efficiency. VAST's innovative composite material imparts deep colors, excellent slip resistance and unbeatable strength at one-third the weight of concrete pavers.
"VAST Composite Landscape Pavers in the new 4x8-inch size weigh less than nine pounds per square foot, compared to 30 to 35 pounds per square foot for concrete pavers," said Smith. "The weight advantage makes VAST pavers less costly to transport, easier to handle, and ideal for constructing patios and decks up on rooftops."
VAST's patented grid system enables contractors to work more efficiently, saving time and reducing the amount of labor required to set and align pavers. The VAST grids, manufactured in the same composite material as VAST pavers, are laid out on a compacted sand base just like the base for conventional pavers. Installers then insert VAST pavers into the grid -- in any designed pattern -- and the pavers are automatically spaced and aligned. That saves time while ensuring correct alignment. Moreover, once the grids are placed on a prepared base, contractors can get their crews working from multiple starting points simultaneously. That can also speed up the VAST installation process.
"We engineered a new installation grid design for the 4x8-inch VAST Composite Landscape Pavers," said Smith. "The 4x8-inch size will make installation even faster, because it reduces the number of pieces per square foot by 44 percent compared to the 3x6-inch version."
Award-winning VAST Composite Pavers are the best choice for green building and sustainable development projects. The VAST manufacturing process starts with post-consumer recycled rubber and plastics, consumes 82 percent less energy than concrete product manufacture, releases minimal greenhouse gas emissions (89 percent less carbon dioxide compared to concrete products), generates no volatile organic compounds, yields zero scrap, and creates products that are 100 percent recyclable.
"VAST Composite Pavers are cradle-to-cradle green and help projects earn more LEED® certification credits than any other paver," said Andy Vander Woude, chief executive officer, VAST Enterprises, LLC. "Through 2009, installations of VAST Composite Pavers have diverted 2.75 million pounds of old car tires and plastic containers from getting dumped into U.S. landfills."
"When I did my first project with VAST Composite Pavers, a parking area for the Houston Parks Board, I have to say I was surprised by the result. They really have the true appearance of masonry pavers," said Mark Burzynski, Gulf Coast Landscape Services, Inc., Houston, Texas. "The 4x8-inch size is the paver I want for big projects. Larger pavers have more visual appeal in bigger applications and are more efficient to install."
Gulf Coast has been a preferred contractor for commercial landscape and golf course construction projects in the Houston area since 1985. Gulf Coast utilizes products from Acme Brick, the oldest and largest U. S. owned brick manufacturer and a distributor of VAST composite masonry products.
VAST Enterprises, LLC
VAST applies its patented technology to transform recycled materials into a new resource for green building: composite masonry. VAST composite products -- including landscape pavers, permeable pavers for stormwater management, deck pavers and thin brick -- offer an engineered alternative to molded concrete and clay brick. VAST meets the most demanding requirements for aesthetics, durability, sustainability and installation efficiency. Award-winning VAST pavers deliver rich colors, superior slip resistance and unbeatable strength at one-third the weight of concrete pavers. VAST can contribute to qualification for more LEED® credits than any other paver. Today, every 5,000-square foot VAST landscape installation keeps 2,500 scrap automobile tires and 75,000 plastic containers out of U.S. landfills. Tomorrow? The Future is VAST™. Learn more at vastpavers.com. Then call (612) 234-8958.
LEED® (Leadership in Energy and Environmental Design) is registered trademark of the U.S. Green Building Council.
NOTE TO EDITORS: High-resolution photos are available to members of the media upon request.
# # #