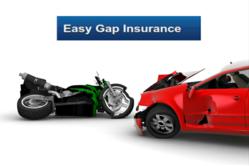 The new Vauxhall Adam will provide a highly customisable vehicle for car buyers. New Gap Insurance policies from EasyGap will allow protection for these features.
(PRWEB UK) 13 July 2012
The team at Gap Insurance specialist EasyGap are reporting strong interest from their customers in the new Vauxhall Adam. The model is due to launch in early 2013, and is already causing a stir amongst the UK car buying public.*
The model is being provided with many options available, to allow the purchaser to build the vehicle in a highly personalised way. This is an attractive option for drivers, and in common with many rival models such as the Fiat 500 and the Mini.
The team at EasyGap have had enquiries from potential buyers of the Adam, asking whether a high level of options would preclude the Adam from Gap Insurance cover. The team have moved quickly to allay any fears.
"The new Vauxhall Adam looks to be a chic alternative to the extremely popular Fiat 500 and Mini. Judging by our customer feedback, it is certainly creating interest even six months or so prior to launch in the UK.
One question we have been asked that if they order a vehicle with many factory options, would they invalidate any Gap Insurance for a Vauxhall Adam they buy from EasyGap. This is certainly not the case with our new range of policies. With our Return to Invoice and Vehicle Replacement Insurance policies, all factory ordered options are covered no matter what price level they reach.
Indeed we can also now cover up to £1500 of dealer fitted options, so if the car salesman talks you into a few more toys then we can cover that too."
Vauxhall aim to launch the Adam in basic form at £11,000, however this allows for plenty of scope for adding options to satisfy any taste. For those concerned with protecting their investment, new EasyGap policies are designed to suit.

Note to editors - story from AutoCar