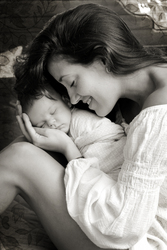 We work to change legislation that governs midwifery care and regulation of birth centers to provide more access to women. - Miriam Pearson-Martinez
Boca Raton, FL (PRWEB) June 30, 2010
Midwives are upset at recent changes in healthcare legislation that is banning up to 50% of Vaginal Birth after Cesarean at US hospitals. Recently, Florida State Agency of Health Care Administration is moving to change language in a bill that would make it illegal to have a vaginal birth at a state licensed birthing center, if the mother has had a previous cesarean . According to the American Colleges of Obstetricians and Gynecologists and many other organizations, it supports a woman's right to make healthcare decisions for herself and her unborn child.
"Many times it is unnecessary and risky to have another Cesarean, it is unfair to change legislation that could prevent women in giving birth naturally, if they are low risk," said Stacie a writer for VBACfacts.org. Evidence indicates that a majority of women can have safe vaginal births after having a cesarean (VBAC); but, according to the US Centers for Disease Control estimated, 1 in 3 women, give birth by cesarean every year. The effective and safe use of cesarean has been a focus of national attention and concern for decades.
VBAC emerged from the 1980 National Institutes of Health Consensus Conference on Cesarean as a mechanism to safely reduce the cesarean delivery rate. Emerging studies, patient preferences, organizational changes and liability pressures have resulted in a rapid reduction in the practice of VBAC and an increase in cesarean delivery.
The national goal stated by Healthy People 2010 is to reduce cesarean delivery to 15%. The cesarean delivery rate for 2007 was at an alarming 32.8% of all births. South Florida's cesarean rate for 2008 was an astounding 46%. Any mother in South Florida with low risk, singleton pregnancy has nearly a 50/50 chance of giving birth by cesarean section.
With the alarming rate of unnecessary cesarean sections, and women not being informed of this alarming trend, one South Florida group is taking a stand. The VBAC Summit, comprised of Obstetricians, Pediatricians, and Therapists, will educate and speak about the effect of repeat Cesareans vs. VBAC.
"We are working to change legislation that governs midwifery care and regulation of birth centers to provide more access to women," said Miriam Pearson-Martinez, a licensed midwife and mom of 4. She is planning the VBAC summit and works from the Amazing Births and Beyond location in FL.
For more information on the VBAC Summit, please visit vbacsummit.org. It is a 2-day informational event, beginning February 11-13, 2011. This event was a great success last year and promises to be an even more successful one this year. Amazing Births is a sponsor of the VBAC summit.
About Amazing Births and Beyond:
At Amazing Births and Beyond we focus on women and their ability to birth normally and with ease. At Amazing Births and Beyond they understand the importance of support and guidance in making birth a positive lifetime memory. Please visit http://www.amazingbirthsandbeyond.com there you will find an array of helpful articles as well as information on Fertility, Chiropractic, HypnoBirthing, and Doula services they provide as well as VBAC-friendly physicians in the area. Amazing Births is adding new classes every month to help women in the Dade County, Broward County, and Palm Beach County area have access to classes that can assist them in having the birth they want.
###