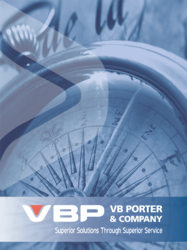 New York City (NYC), VB Porter & Company is a leading full service real estate firm that operates in the best interests of tenants and investors by offering integrated solutions, consultations and a wide range of other real estate services.
New York, NY (PRWEB) April 17, 2012
VB Porter & Company announces that they have recently won an exclusive with an international European Bank to sublease their current New York office space at the historic Art Deco style building 122 East 42nd Street, also known as the Chanin building, and relocate them to another prestigious location. The 8,317 square foot office space consists of 8 offices, 2 conference rooms, a spacious wet pantry, and a large bullpen area for up to approximately 30 work stations. There is currently just under seven years left on the lease, running through February of 2019. Office space is in great condition and has an above standard installation with ample light and sits on the corner of 42nd street and Lexington Avenue with views of the Chrysler Building and Hyatt Hotel.
The Chanin Building is located in the heart Grand Central submarket, which stretches from 38th to 47th street between Second and Fifth Avenue in midtown Manhattan is one of New York City's strongest and contains some of the NYC's most recognizable buildings such as the aforementioned Chrysler Building, the MetLife Building and of course Grand Central Station. It is also the location of some of the city's most prestigious firms and boarders Bryant Park and the New York Public Library.
VB Porter & Company, with their excellent track record in New York office space leasing and consulting will actively engage in securing a qualified subtenant for the bank and assist in finding new space for them in Manhattan.
About VB Porter & Company:
Located in the heart of New York City (NYC), VB Porter & Company is a leading full service real estate firm that operates in the best interests of tenants and investors by offering integrated solutions, consultations and a wide range of other real estate services. With a wealth of experience, they focus on providing an individual approach to every client to deliver effective results in every stage of the real estate process and guarantee the most current and accurate information which serves as a base for making optimal and timely decisions. Focusing on relationships and customer service, the company has the appearance, experience, and understanding of the major firms but emphasizes on building personal, long-term relationships that you typical only get from boutique firms.
For more information about office space or any of our real estate services please call us at (212) 812-0792 or visit our new website at http://www.vbporter.com