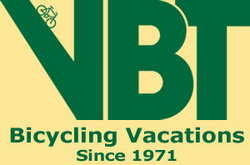 We're honored to be recognized again by National Geographic
Bristol, VT (PRWEB) January 6, 2009
For the second year in a row, VBT Bicycling Vacations has been named as one of the "Best Biking Outfitters on Earth" by National Geographic Adventure magazine.
The magazine's February 2009 issue, which hits newsstands January 6th, ranks the Vermont-based international bicycle tour operator second in a list of top bicycle tour companies, with the highest customer satisfaction rating of the top five biking companies overall.
"We're honored to be recognized again by National Geographic," said Gregg Marston, VBT's president. "And we're especially thrilled to receive a client satisfaction score of 98.33- the highest score of our all top competitors. Delivering an active vacation with exceptional quality and guest satisfaction, all at an unsurpassed value, is the number one mission of everyone at VBT."
National Geographic Adventure contacted 248 active travel companies- and their clients- in preparing the results of this survey. Each company was ranked in six categories: education, sustainability, quality of service, spirit of adventure, and client satisfaction. Although VBT was ranked #2 overall in 2009 compared to #1 overall in 2008, VBT's total score in the survey increased by more than 2.5 points.
Founded in 1971, VBT Bicycling Vacations offers 27 deluxe bicycling tours in 18 countries worldwide, including destinations in Italy, Spain, Eastern Europe, Costa Rica, New Zealand, Vietnam, Thailand, South Africa, Canada and the U.S.A. VBT promises its travelers worldwide bicycling and discovery vacations at the best value, and recently announced a "Dare-to-Compare" Guarantee that offers one free VBT vacation to travelers who find a lower-priced trip of identical quality.
For reservations or more information, call 1-800-245-3868 or log on to the company's website, http://www.vbt.com.
For More Information, Contact:
Spencer Newman
Director of Marketing
802-453-4811 ext. 3414
###