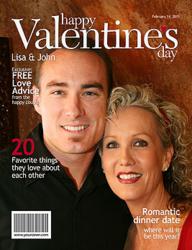 A very unique idea that wasn't expensive. I absolutely loved the way that it turned out.
Wilton, CT (PRWEB) December 31, 2012
With Valentine's Day falling on the same day each year, consumers are able to plan ahead for the gifts they might like to make, buy and give. Of course, the tendency to procrastinate is common which is why last minute Valentine's Day gifts such as flowers and candy continue to dominate.
However for those consumers who might like to plan ahead or even for those who do procrastinate and need a last minute gift, YourCover has been able to provide a solution to both needs. The personalized magazine covers at YourCover.com can be created in minutes but are totally unique. Instead of a generic gift that seems to say, "I waited till the last minute to think about you," the fake magazine cover is so customized, the recipient will think hours and hours of planning and work went into it, whereas its creation only took minutes.
To make a magazine cover for Valentine's Day, YourCover recommends choosing either the Valentine's Day, Love or Best Friends magazine cover template. For those who are particularly creative and want to make a magazine cover with a unique title, YourCover offers the blank make-your-own-title template. The next step is to add a personal photo of the recipient or the couple to the magazine cover and then to personalize the default headlines to reflect the life, relationship, and "true love story" of the person/people on the magazine cover.
Suggestions for giving the magazine cover include purchasing the photo file download for instant self-printing. Consumers add the print to their own frame and the gift is complete. YourCover can also print and frame the magazine cover. Additional gift ideas are to have the magazine cover design imprinted on a t-shirt, poster, mug or mouse pad.