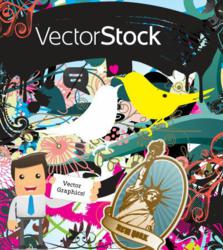 VectorStock adds thousands of new premium vector graphics every week.
(PRWEB) July 26, 2012
Vector Stock the world's leading supplier of royalty free vector graphics, have recently announced that they are now providing customers with multiple file types in a single purchase at no additional charge.
The permanent offering puts Vector Stock firmly at the forefront of the online arena in stock vector art. Vector Stock now includes with all purchases the Vector EPS file, a pdf file and also a high res JPEG, whereas previously purchasers would only receive the Vector EPS file.
The Vector Stock name has become synonymous with market leading innovation, and for having the best selection of vector graphics on the Internet. The company also recently announced their top ten most popular categories of vector images:
1. Backgrounds and Textures
2. Design Elements
3. Icons Emblems (sets)
4. Signs and Symbols
5. Abstract
6. Animals and Wildlife
7. Objects Still life
8. Floral Decorative
9. Miscellaneous
10. Borders Frames
People purchase vector stock art for numerous applications such as graphic design, website design and promotional material. The new free formats offered by Vector Stock have been welcomed by the creative community. Richard Conway from the creative agency Waking Giants says;
"The additional formats give us extra flexibility and benefits both ourselves and our clients. We have been using Vector Stock for the past 3 years and will continue to do so as they are simply the best that is out there.
Pretty much everyone else in the market only offers a single file type and a more limited selection of vector stock to work with."
To browse the range of free vectors and premium vector art available at Vector Stock, visit the website ( http://www.vectorstock.com/signup ) today and sign up !