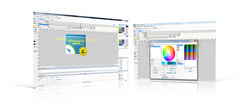 (PRWEB) September 9, 2010
Vectorian Giotto, powerful low cost solution for creating animated Flash content, has been updated. Latest version of Giotto (2.3) comes with one brand new feature; a Flash banner gallery. This gallery of Flash templates provides users with over 50 choices for creating the perfect flash banner. The designer simply has to choose a suitable template, modify its text with a few clicks, then export it in SWF. Creating the perfect banner has never been easier!
Giotto is primarily intended for designers, rather than coders. That's why it comes packed with more than 50 great effects that can be applied to both shapes and text, without any coding at all. There are over a 100 effect presets that display the different ways in which the effects can be adjusted. With Giotto, users can simply relax and focus their imagination on creative concepts, integrating stunning graphics and music into design masterpieces. One can play with effects through the effects editor and see the results appear on the screen immediately. Even though Giotto fully supports Action Script 2, the creators integrated built-in effect generators that allow Flash designers to create outstanding effects without any scripting at all.
Switching from one animation software to another can often be difficult. That's why Vectorian developers designed a user interface for Giotto that is very similar to Adobe Flash Professional's and further simplified it so that designers can achieve results faster and more easily. This makes for a smooth and enjoyable transition from Adobe Flash Professional, or Macromedia Flash to Giotto.
One feels at home with the familiar UI, along with the motion tweens, symbols, library and filters like blur or drop shadow.
Every single element is where you expect it to be, such as the tools, context menus and object properties, so you have the sense of familiarity and ease of use from the very first moment you open it. There are also some new elements like the natural color palette editor, effects generator, and other tools that create stunning effects without ever touching Action Script. Giotto has an advanced color palette editor that can create unique and diverse palettes, as well as shape tweening and morphing that actually works.
Designers can create complex vector illustrations in Giotto, designing anything from simple shapes to custom ones like a polygon, star, or rounded rectangle. They can transform vector objects in any imaginable way. Among the many features, designers can also:

Use bitmap filters like blur, drop shadow, glow, and all blend modes
Organize all the objects in the library and create symbols like Movie Clips and Buttons for multiple use
Add text fields, with font kerning and paragraph alignment
Animate objects with motion tweens and shape tweens
Add sound to movies and create advanced interactivity
One of the main advantages of Vectorian's flash animation software is its built-in editor for color palettes. Most color palette editors out there are quite useless, but Giotto's is very applicable in real life. The Color palette editor uses special algorithms based on human perception of colors, rather then traditional mathematical models which produce poor results. Once designers select the base color for their project, they have countless options for creating palettes using many various matching algorithms. This makes the start of every new project quite easy!
Vectorian Giotto is compatible with Microsoft Windows 7, Windows Vista and Windows XP. At only $44.95 (US) per license, the software sells for just a fraction of the cost of Adobe Flash Professional and can be purchased online at vectorian.com. A free trial version is available for download.
Direct URL to the product's web page:
http://vectorian.com/giotto
A trial version of Vectorian Giotto is available at:
http://vectorian.com/download/installvectoriangiotto.exe
For more information, visit their web site at
http://vectorian.com
###