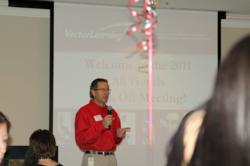 Our mission at VectorLearning is to help people enrich their lives through online education, and that mission begins right here—with our exceptional team of talented and dedicated professionals
Tampa, FL (Vocus/PRWEB) February 03, 2011
VectorLearning—comprised of design and construction eLearning leader RedVector and Care2Learn, the definitive online education provider for post-acute healthcare professionals—announced plans this month to increase its workforce by nearly 20 percent in the coming year, defying U.S. job growth trends and demonstrating its strength in the online education and training industry.
"Our mission at VectorLearning is to help people enrich their lives through online education, and that mission begins right here—with our exceptional team of talented and dedicated professionals," says CEO Tom Wallace. "From the beginning, our employees have been the driving force behind our remarkable success, and they're the reason we continue to grow and are able provide even more job opportunities for others who want to make a difference in the education industry."
So far this year the company has filled three of the 19 new positions planned for 2011—in Marketing, Enterprise Sales, and Administrative Resources. Additional positions are planned for the following departments: Small Business Sales, Enterprise Sales, Educational Advisors, Content, Accreditations and IT.
Named one of Tampa Bay's Top Work Places of 2010 by the St. Petersburg Times and a 3-time finalist for the Tampa Bay Business Journal Best Places to Work Award, VectorLearning was founded in 1999 and continues to set the benchmark for offering superior products and services for individuals and companies to enhance their success through eLearning.
About VectorLearning
VectorLearning sets the standard for excellence in online continuing education and training for licensed and certified professionals in the engineering, architectural, construction (AEC) and post-acute healthcare industries. With an online library exceeding 1,500 courses authored by more than 200 subject matter experts and spanning all 50 states, VectorLearning serves more than 300,000 working professionals. The recipient of numerous community honors and industry awards, VectorLearning was founded in 1999 and is headquartered in Tampa, Florida. For further information call 1-866-546-1212 or visit http://www.VectorLearning.com.
###