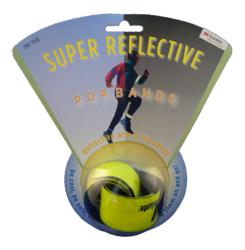 Vedante has been a top seller of reflective products for people and pets for over 3 years on Amazon.com in the United States.
London, United Kingdom (PRWEB UK) 4 October 2011
Amazon.co.uk is now offering shoppers a way to be fashionably visible and safe at night with Vedante's super reflective products.
Vedante has been a top seller of reflective products for people and pets for over 3 years on Amazon.com in the United States. But it wasn't until British Airways selected CEO of Vedante, Barbara Kantor, as a winner of their prestigious Face of Opportunity Award, that international distributors began to take notice.
Vedante (pronounced [veh-dahn-tay]) is a company committed to saving lives and reducing injuries from pedestrian-vehicle and bicycle-vehicle accidents. The mission is to increase visibility, and therefore nighttime safety through education, awareness campaigns and the development of "products that reflects well on you™".
These fashionable and colorful bands are popular due to their highly effective and reflective design. These stylish items go on like snap bands. Versatile and fashionable, they are easy to carry anywhere at any time. Pop Bands are priced on Amazon UK at £12.99 for a package of two.
Product Description:
Snap Tap and Wrap a set (2 bands) of Super Reflective arm/leg bands for 360 degree visibility in low light conditions. Use for: biking, walking, jogging, and dog walking, in night clubs or just for fun. Vedante recommends wearing at least 2-4 Pop Bands to create 360 degree visibility. They can be worn on arms, ankles, wrists, bike handles, baby carriages, backpacks, over non-slick jackets and more. Pop Bands are available in size Medium (30cm) or Large (38cm). Colors: Blue, Green, Tangerine, White, Yellow, Pink.
Product Features

Pops on easily, no Velcro, fits most anyone
3M Scotchlite reflective material
Yellow and white are reflective up to 450 Meters, Tangerine reflects up to 325 Meters. The material is EN 471 compliant
Pink, red, blue, and green reflective up to 130 Meters
Size Large 3cm x 38 cm;
Size Medium 3cm x 30cm
About Vedante:
CEO Barbara Kantor founded Vedante in 2006. Barbara's inspiration came during an evening walk when she witnessed a pedestrian being struck by a car. The pedestrian, in a cross walk, was unaware of the driver's inability to see her. Deeply impacted by what she saw, Barbara delved into research on safety and visibility and then studied reflective products that were currently on the market. Barbara's research and her 25 year background in fashion design led to her development of Vedante reflective safety products that are attractive and easy to use.
Vedante is a company committed to saving lives by increasing nighttime visibility and decreasing accidents through education, awareness campaigns, and "fashion that reflects well on you."
Vedante has consistently ranked among the top 10 best sellers in the United States at Amazon.com in its respective categories for super-reflective Pop Bands and pet accessories. To locate a local retailer visit http://www.vedante.com as well as at Amazon.co.uk
For safety tips, deal alerts and fun stories follow Vedante on Facebook and Twitter.
# # #